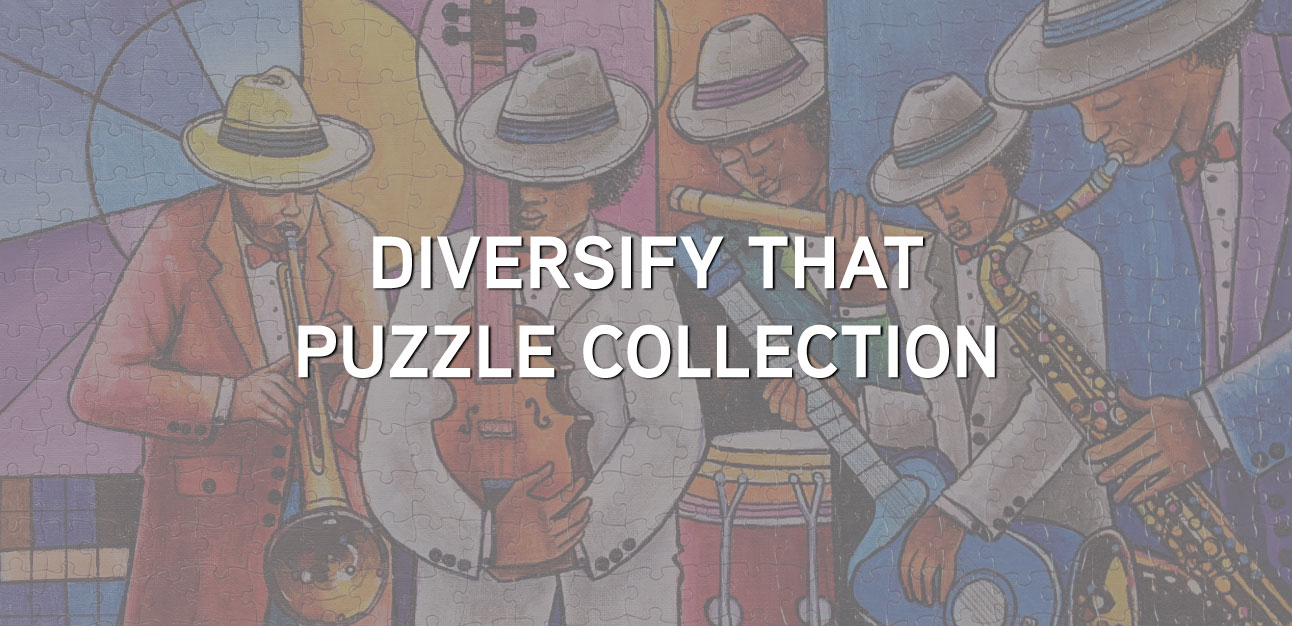 Diversify That Puzzle Collection
Hello out there to all my puzzle friends! Today's blog entry is going to be about adding some diversity to our puzzle collections. I never really used to look at my puzzle collection with a critical eye. I didn't even give it a second thought until a Black puzzler friend told me that she doesn't do puzzles with people in it because none of them look like her. I was gobsmacked. I spent the day looking at my puzzles and saw the hard truth that I never noticed. There is a severe lack of BIPOC representation in the puzzleverse, both in companies and artists. This is something that we as puzzlers need to remedy. By exploring puzzles made and illustrated by people of color, it allows you to empathize and respect the experiences of lives that differ from your own perspective. It's time we as puzzlers embrace and demand puzzle art and puzzle companies from a wide range of cultural identities.

One company that you should definitely check out is Indigenous Collection by CAP. The Indigenous Collection is a section of Canadian Art Prints that focuses solely on Indigenous art. All artist's work is original and they receive royalties from each sale of their images. I recently finished a gorgeous puzzle from them. Aurora Drummer is a 500 piece round puzzle from Cree artist Betty Albert. This is my second puzzle with art from Betty and I absolutely love her work. Dreams play a large part in her work and life. In many of her dreams, the people are faceless, which is how she depicts them in her paintings. From the CAP website, "Her art allows the viewer to experience tradition, action, and a deep spirituality." I appreciate how beautifully CAP has transferred Betty's work in puzzle form. Their puzzles are really enjoyable. They have a low gloss finish and the pieces are well made. The fit is super nice and I was able to move large sections. The circular puzzles have a varied ribbon cut.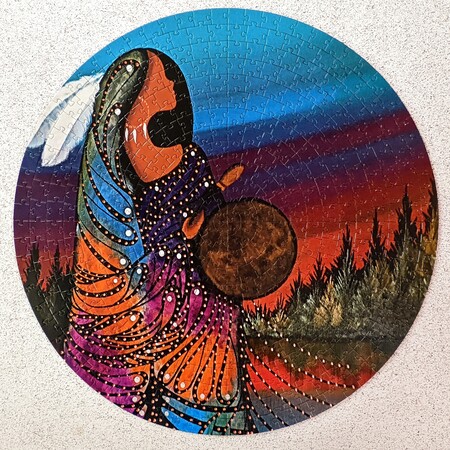 Aurora Drummer | Indigenous Collection by CAP | 500 pieces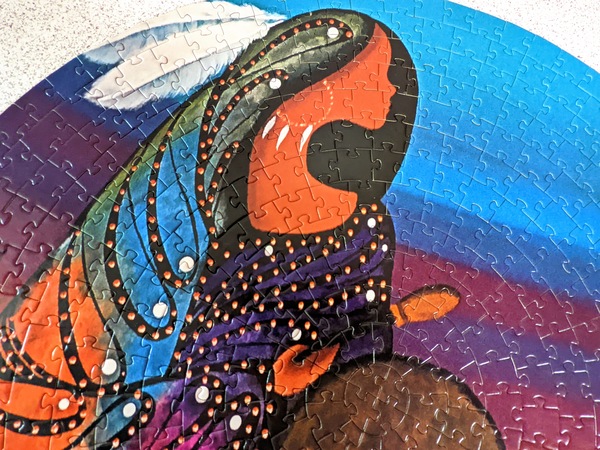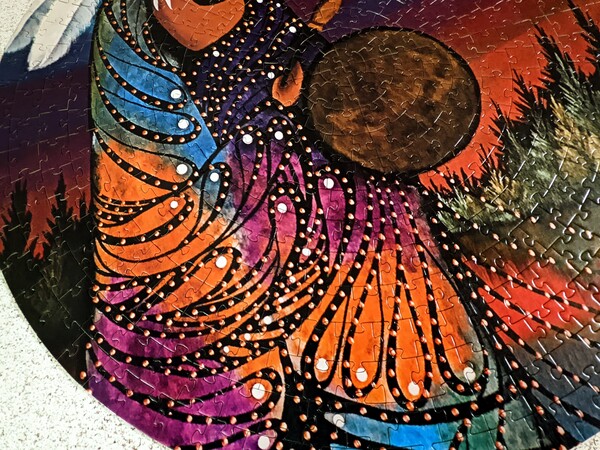 Indigenous Collection by CAP has so many styles of images. Their 500 piece puzzles are round and rectangular, but their 1000 piece puzzles are only rectangular in shape. They also have 72 piece mini puzzles. They use art from Indigenous tribes all over North America. There are so many puzzles out there that feature romanticized versions of Indigenous peoples that were illustrated by white artists. I think it's time to experience an image depicting Indigenous life and spirituality that was illustrated by an Indigenous person.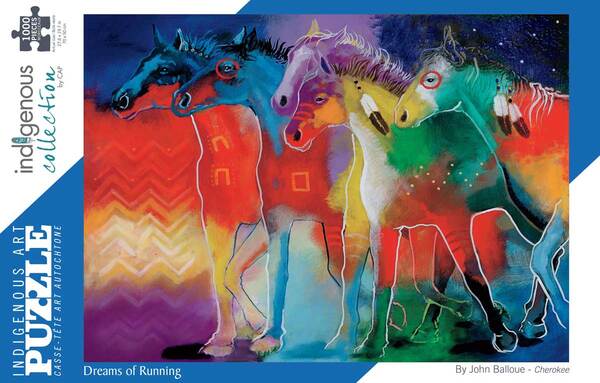 Dreams of Running | Indigenous Collection by CAP | 1000 pieces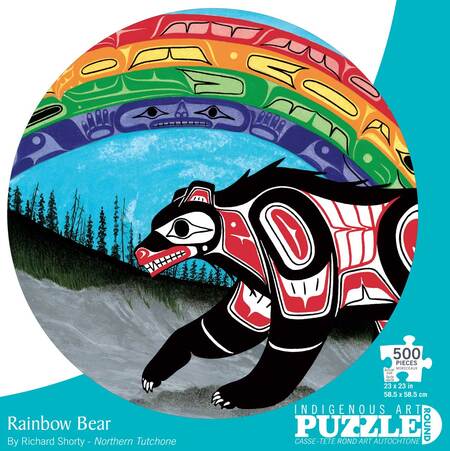 Rainbow Bear | Indigenous Collection by CAP | 500 pieces
Another amazing company that produces puzzles with diverse art is African American Expressions. This company is one of the largest greeting card companies in America. They produce paper products, home goods and most importantly for us, puzzles! All of their puzzles feature Black artists. This past month I had the pleasure of assembling All That Jazz by Nigerian artist D.D. Ike. He says "My art is merely an extension of who and what I am. I can only sculpt, paint or produce my experiences". His work is absolutely stunning. I love his use of color, shapes and patterns, it translates perfectly into puzzle form.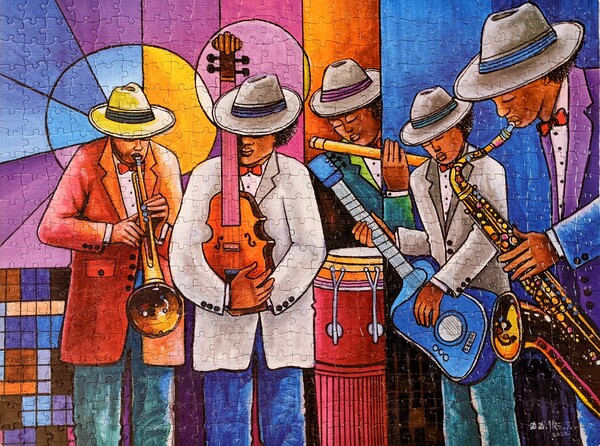 All The Jazz | African American Expressions | 500 pieces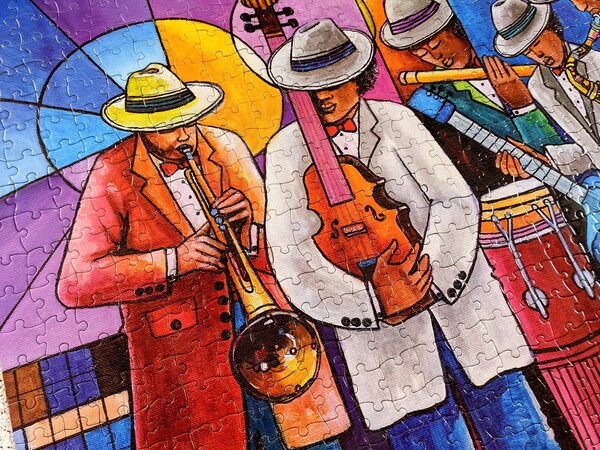 African American Expressions puzzles have a standard ribbon cut, with a low gloss finish. The pieces fit together well and had that awesome snap when placed. The colors were vivid and sharp and the image was beautifully rendered. As stated on their website, the company produces a " wide variety of jigsaw puzzles that embrace Black History, faith, and influential African American leaders". At 500 pieces, their puzzles are made to be enjoyable for adults, yet still manageable for children.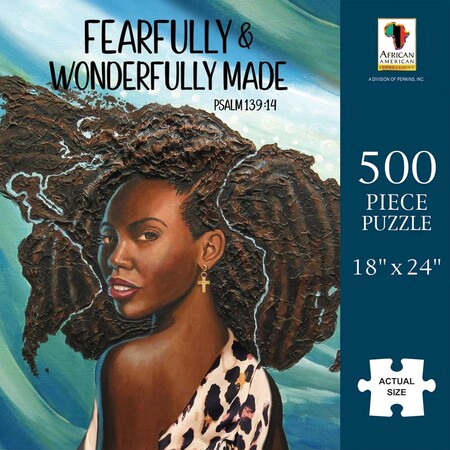 Wonderfully Made | African American Expressions | 500 pieces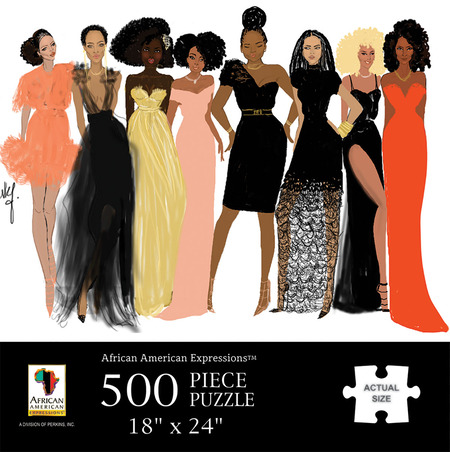 Sister Friends | African American Expressions | 500 pieces
If food is more your game, definitely check out Puzzle Sensei. Starting life as a Kickstarter, Puzzle Sensei is Asian owned and has rapidly grown into a puzzle community favorite. These puzzles are food-themed and the company hopes "to inspire curiosity and celebrate cultural diversity by sharing our passion for food through art and trivia". Their images are all original art depicting Asian dishes. Each puzzle comes with a recipe and fun facts about the dish featured! I've completed their Lucky Ramen puzzle and the included Ajitsuke Tamago recipe is so amazingly good. With a linen finish, low glare, and ribbon cut, these puzzles are a joy to put together.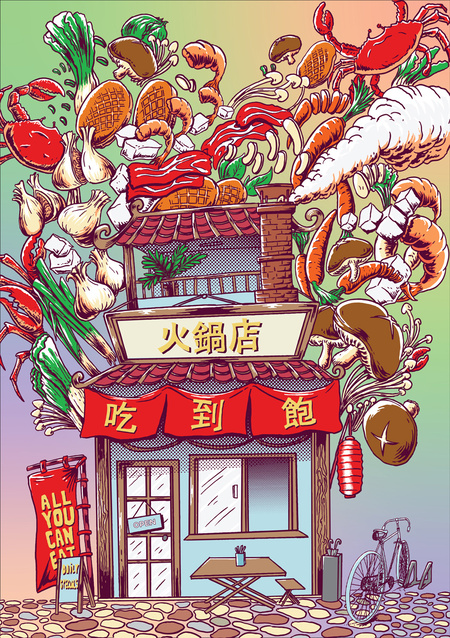 Shabu Frenzy | Puzzle Sensei | 1000 pieces
Another company that features gorgeous images from Black artists is SunsOut. I recently received Book Nerd from Puzzle Warehouse and I can't wait to get started on it. And of course, I would be remiss if I didn't mention my favorite company, Pomegranate. They produce a ton of puzzles that feature images by BIPOC artists.
Now, I actively seek out puzzles from BIPOC companies and artists. I want to see a point of view that isn't similar to my own. I want these companies and artists to thrive, because it's important that puzzers see themselves in the puzzles that they do. Representation matters, even in something as simple as a puzzle. So check out a puzzle that's different from your own cultural identity. Buy puzzles from BIPOC brands and artists. Tell your favorite puzzle company to license images from BIPOC artists. Diversify that puzzle collection and help make the puzzle community more inclusive!
Keep on puzzling!
Gaby aka @puzzlepastime