Fairs, Festivals & Fun Parks
Confession time – I am a festival, fairs and fun park freak! Growing up in CT, I volunteered annually for our school carnival. I also eagerly awaited the Danbury Fair every year when we would get the day off from school to attend. At Florida State University to earn my degree in Leisure Services (a fancy name for recreation) I had to do two work studies. My favorite, hands down, was with the Special Events Department where I helped the City of Tallahassee with their festivals. Today, the fun continues with me literally living in Disneyworld's back yard – I can view the Magic Kingdom's fireworks from my home nightly – and I often host team building events there. I guess it was only a matter of time that festivals, fairs and fun parks would surface in my blog!
Festivals
So, step right up as we kick off with festivals! My first two entries were both 500-piece, random cut, large piece family puzzles from Eurographics. I was thoroughly entertained by Martin Berry's rockin' artwork on Oops!. This puzzle caught all that can go wrong at an outdoor music festival, from disastrously long waits (and worse) at porta potties, questionable food kiosks, regrettable tattoos, the band getting electric shocks and more! He is now officially on my list of favorite artists and I'm eying up his What Could Go Wrong? puzzle next.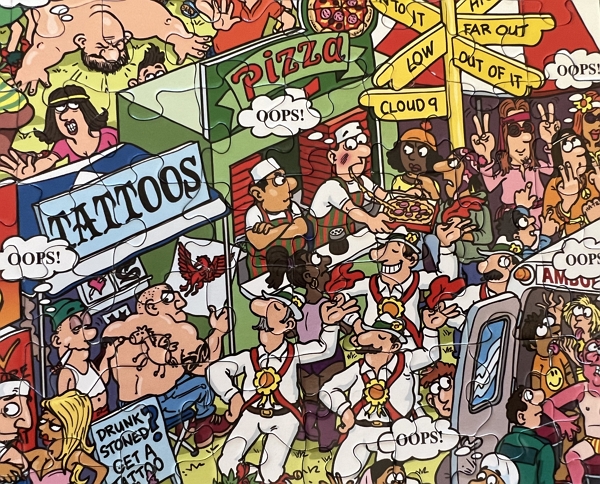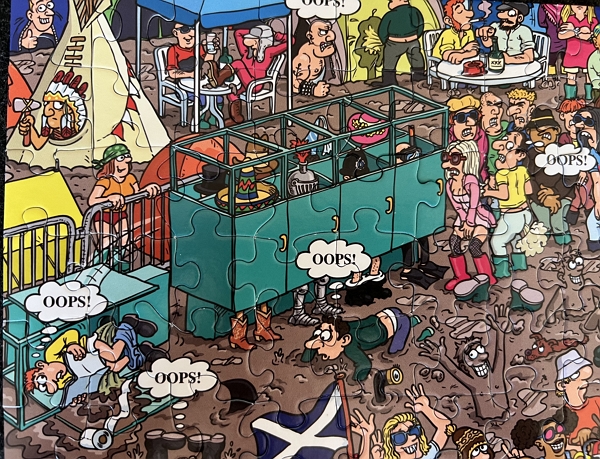 In contrast,Downtown Holiday Festival offers a very different, homey feel, featuring the illustrations of Mark Frost, who due to growing up on a farm in the Minnesota River Valley captures rural America perfectly. The whimsical names of the shops and kiosks were charming and the vivid colors made it easy to put together. Both puzzles put on excellent performances with no false fits and little to no puzzle dust.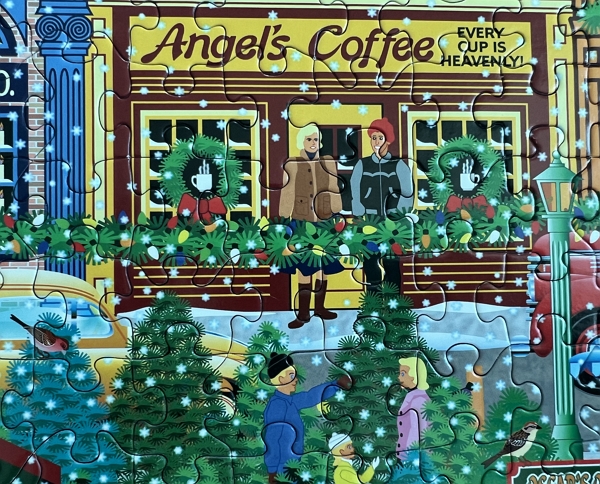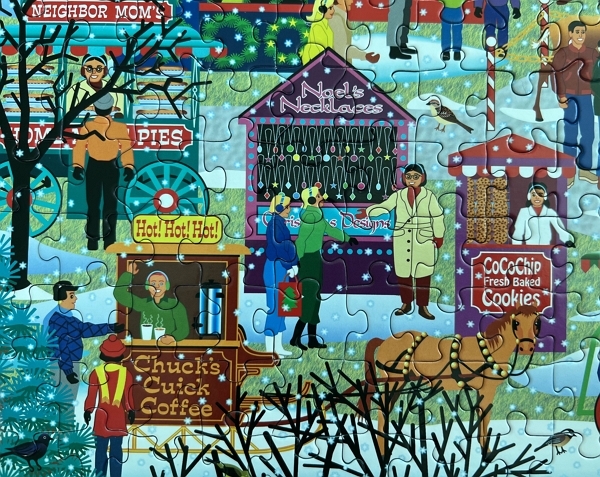 It was hot here in Florida, so I thought it would be cool to carry on with a winter festival theme and complete Puzzle Twist's 500-piece Winter Carnival Buttons-Something's Amiss. For those who have always wanted to see if they'd be buttoned up enough to complete a puzzle that is different than the box image, this one would be an excellent place to start. Most changes are slight - buttons change color, dates are altered and images may be slightly rearranged like the one shown here where the crown and the jester swapped places. Others are bigger, with completely different buttons appearing, but they are obvious. The random, odd-shaped pieces ensure no two are alike, and it's enjoyable trying to pin down the 26 differences, spot the hidden Maynard in the puzzle and answer the trivia questions about the Winter Festival in St. Paul.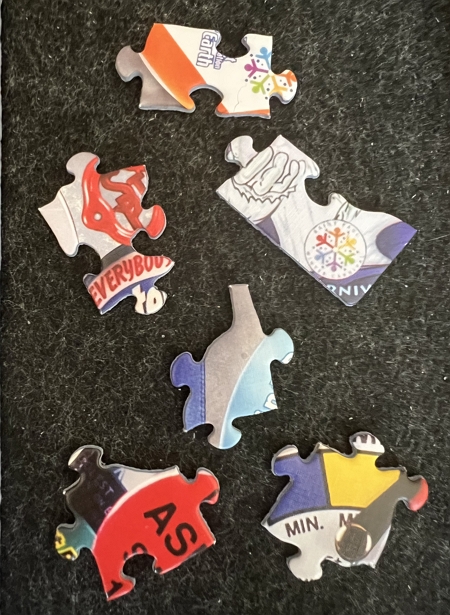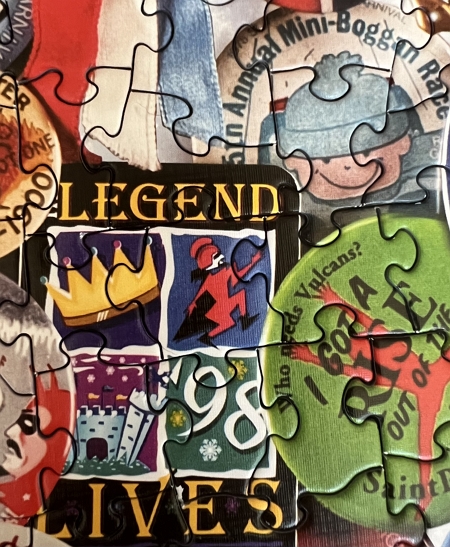 After chilling with the last two puzzles, it was time to heat things up again, so I completed Dowdle's 1000-piece Hawaiian Food Truck Festival. Many Dowdle puzzles feature muted hues, but this one put the festive in festival with the bright colors that made it my favorite Dowdle to date. The oversize poster that came with it was helpful when it came time to search for the 21 tacos, the TV celebrity and the hidden puns highlighted on the box, such as the "pool noodle" shown here!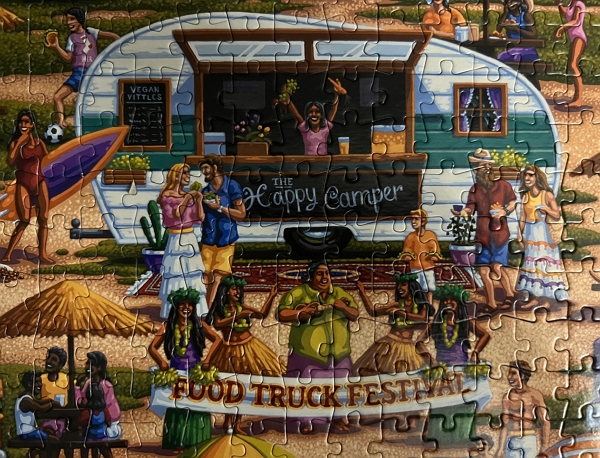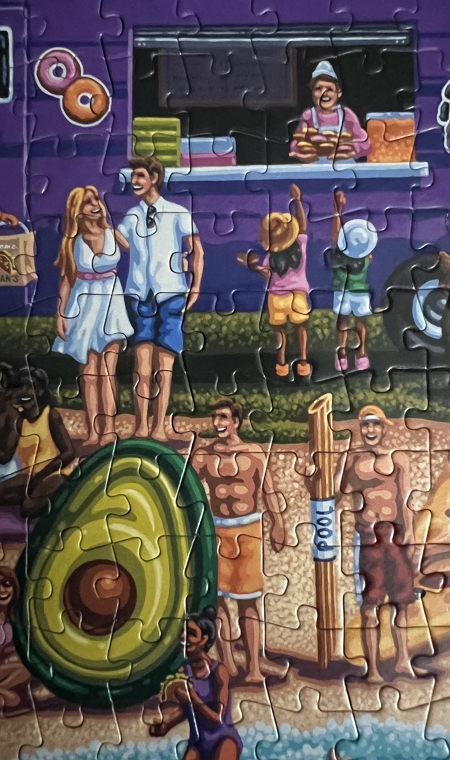 Fairs
Grab some popcorn and cotton candy as we head to the fair, starting with this 1000-piece New York Puzzle Company entitled State Fair highlighting a New Yorker cover from 1937 by artist Ilonka Karasz. This one was challenging for me as outside of the scalloped edge, very few patterns jumped out at me. But I found building it in a non-uniform way helped. I studied the people featured on pieces harder than the man at the "guess your weight" booth and just laid them on the board willy-nilly until the image came together! I must say I was especially intrigued by the Baby Incubator on the puzzle and HAD to look that up. Apparently, preemies sleeping in incubators were once a sideshow at World Fairs! It may sound heartless, but the crowds they drew and results the babies experienced persuaded hospitals, who had scoffed at them previously, to adopt incubators into their wards, saving countless lives.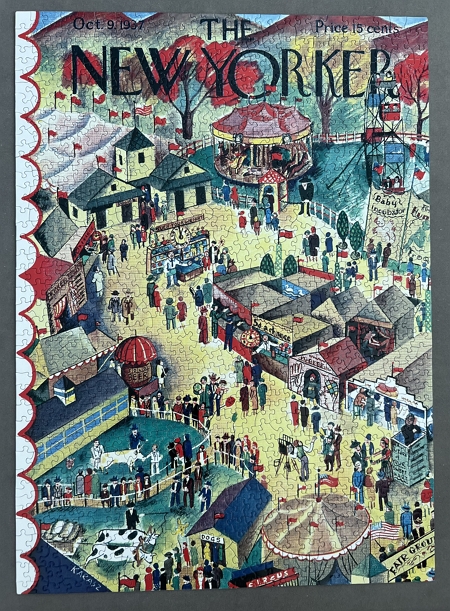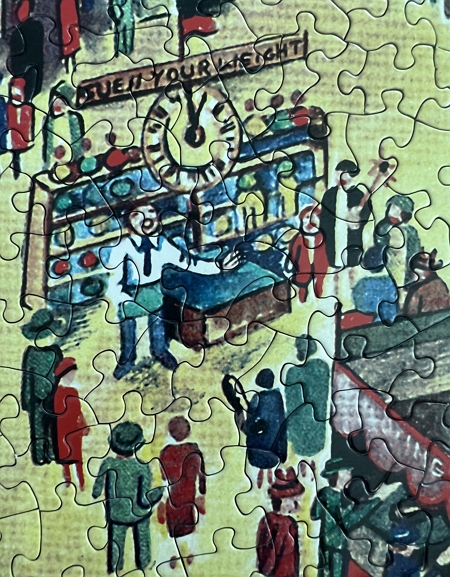 Carnival Time In Willow Bend, a 1000-piece from Tomax Puzzles displaying the artwork of Jane Wooster Scott was a big hit…and just plain BIG at 32" x 24" when complete. I flew through this build until I got to the sky. All the blue and uniform pieces had my head spinning like that Ferris Wheel! Luckily, there were no false fits (you could tell if a piece was slightly off) so that helped, as did turning my board often to study the size of the knobs to slot in next in the row. The result - a beautiful puzzle - had me trumpeting louder than this elephant!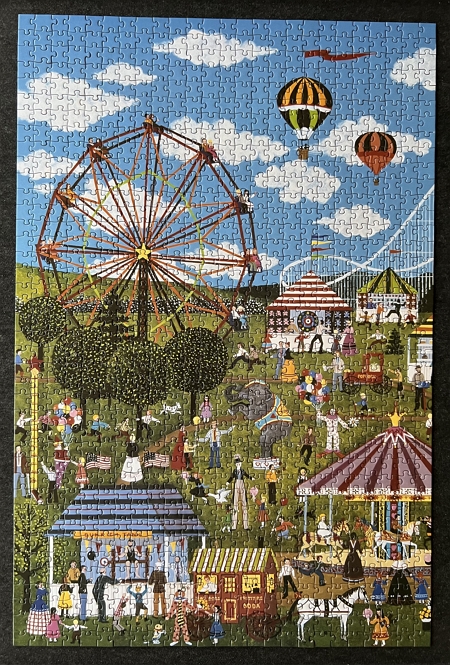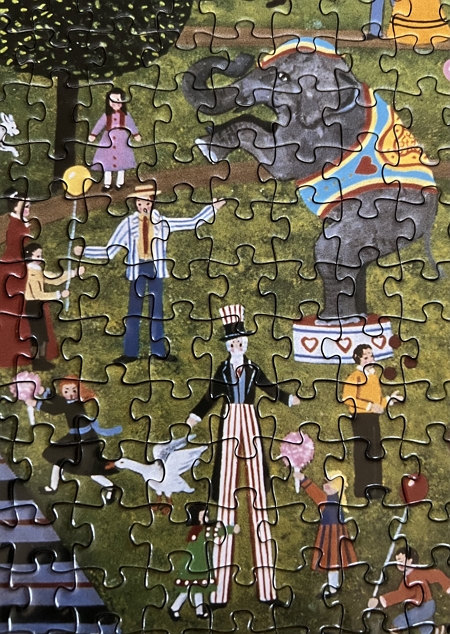 Fun Parks
Time to round out the blog with a visit to a couple of Fun Parks. And hot dog was this 1000-piece Day at the Beach by SureLox by Tomax a delight! Bold patterns, gorgeous colors and lots of intricate details made for quick assembly. This was my first SureLox, but it will not be my last!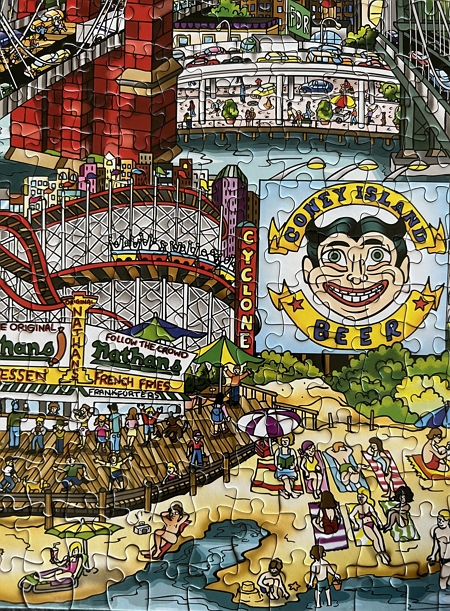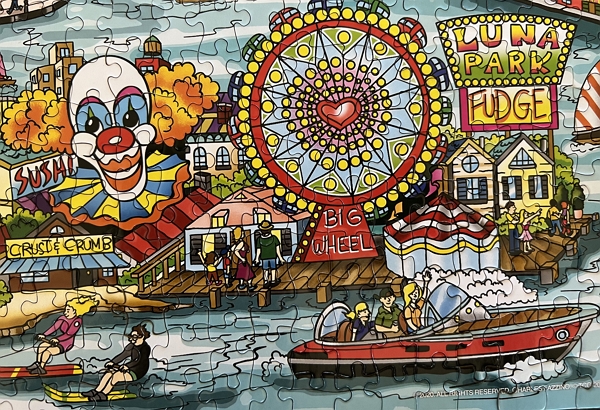 On The Boardwalk by Master Pieces is available in multiple piece counts, so if you want to dip your toe in the water, you can do it as a 1000 piece, or dive in for a 3000-piece roller coaster of a build! Either way, you'll find Art Poulin's artwork pleasurable as you step back in time and feel very thankful that you don't have to go to the beach in full dress like these patrons!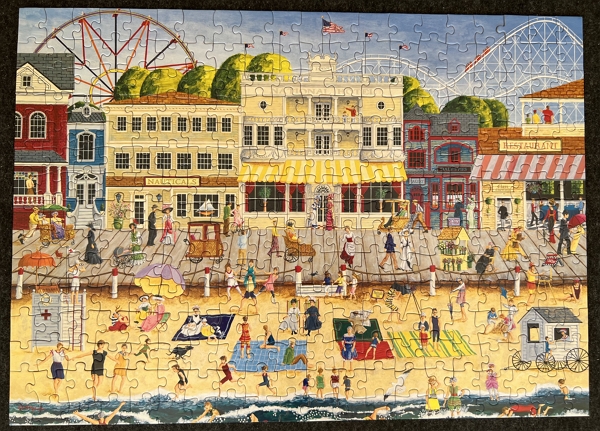 Finally, I saved my favorite for last - Galison's 500-piece Summer at the Amusement Park - and from the comments I got on social media about it, it was a crowd pleaser! The characters artist Michael Storrings brought to life had me smiling bigger than the entryway's sign. I started with them and moved on up to the dark crowd of people, the roller coaster, the Ferris Wheel and lastly, the yellow sky, which had plenty of shade progressions in it.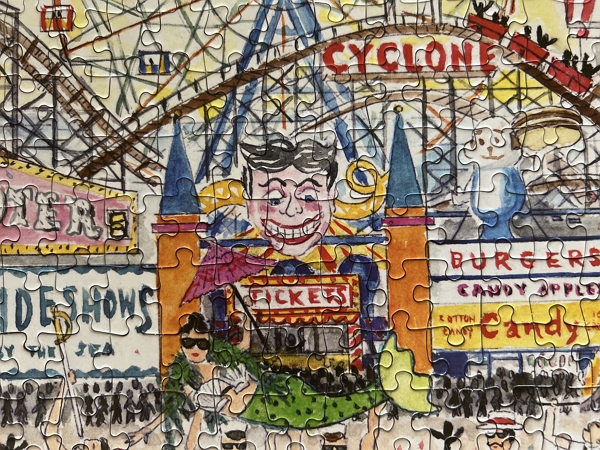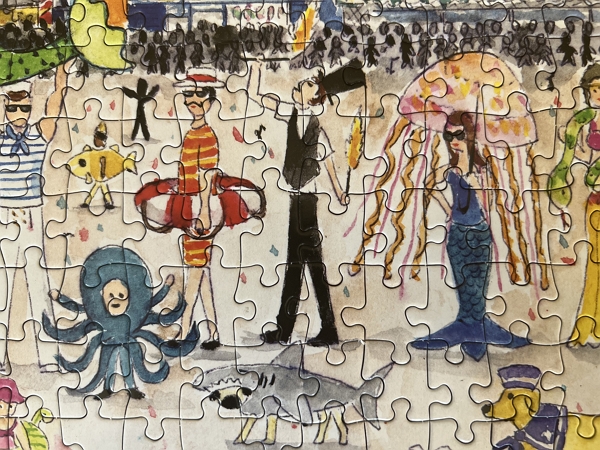 Thanks for joining me on this merry-go-round of puzzle builds! Hopefully several held some attraction for you, but here are a few more sideshows you can check out if not – Midway Mania by Springbok, Country Fair by Heye and Carousel at the Fair by SunsOut.
– Lisa @lisalovespuzzles
Another great Blog by Lisa! I love reading your puzzle adventures. I especially appreciate that you have completed every puzzle you write about!! You are my #1 Blog!
Very nice, thank you so much!
Loved the blog. The subject was so much fun. Will definitely be adding some of the puzzles to my wishlist.
Another amazing blog and adventure. Love the puzzles.