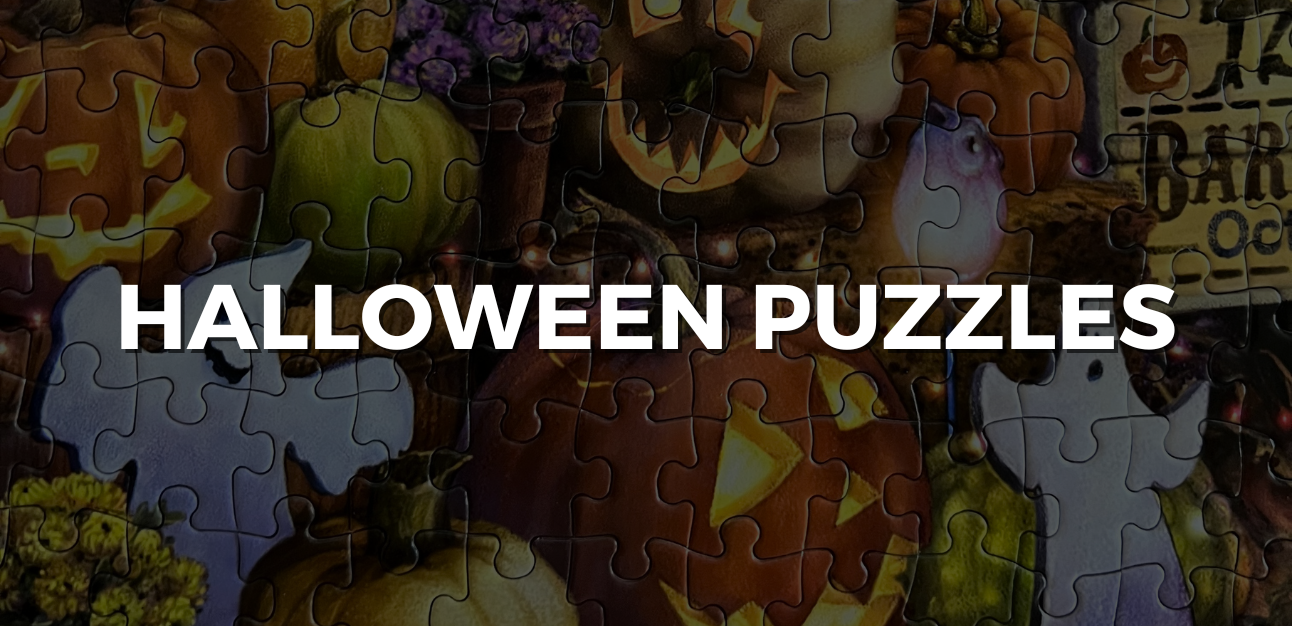 Halloween Puzzles
I have always loved Halloween! My birthday is just a couple of days before the holiday, so I always claimed it as an extension of my special day. I remember one year when my friends had a Halloween party and I was crushed that nobody wished me a happy birthday that night. Didn't they know that this was MY holiday? I went home and cried my eyes out. The next night, I was quite sheepish when it turned out the reason why they kept mum was that there was a surprise party for me the next night! Needless to say, tackling a Halloween-themed blog was a treat for me!
First up on the board was Dowdle's 500-piece Scarecrow Festival. Eric Dowdle grew up in a large family - he's 10th of 12 children (10 boys, all Eagle Scouts, and 2 girls) and his artwork is all about displaying people living meaningful and engaged lives. This puzzle definitely captures the joy of the children enjoying quality time in the maze and I adored the friendly scarecrows.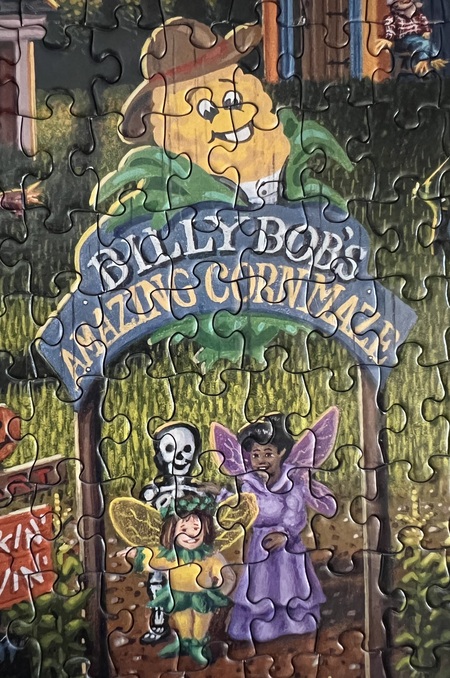 There's something about a corn maze that's always fascinated me, so I easily lost myself in Billy Bob's! I'm not usually a fan of dark puzzles, so I thought that dark sky and trees may be frightful, but it turned out to be brighter than the picture and an easy build due to the gradation. The puzzle came with a poster, which I attached to a tabletop whiteboard easel with magnets. Dowdle's puzzles, which come in a premium collector's box with a resealable Velcro lid, UV protected sleeve color and a zip-lock bag, have a "no missing pieces" guarantee and their thick and sturdy pieces are a pleasure to work.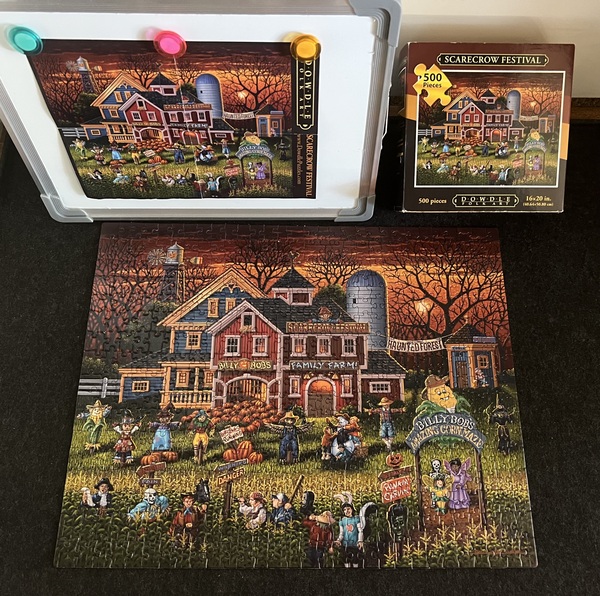 Next up was Cobble Hill's 500-piece Doodletown Haunted House with artwork from artist Dave Whamond, a Canadian cartoonist who draws the newspaper comic strip Reality Check. This fun puzzle got a cackle out of me and all my friends are clamoring to do it next! This puzzle has random-shaped, linen finish, oversized, colorful pieces with minimal puzzle dust that hold together well. There is a poster included, but I used the picture on the box, which was the same size.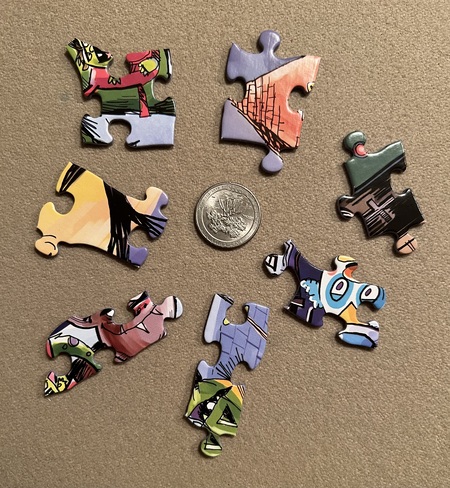 I was like a woman possessed and assembled this beauty in one night, doing all the grass first, then the trick-or-treaters, followed by the tree/moon and house. There were lots of cute characters that I didn't notice on the box, but as things tend to do on Halloween, they popped out to surprise me as the puzzle was built!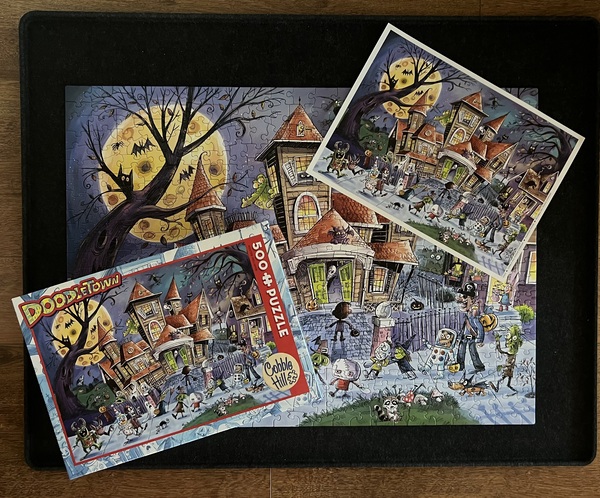 My last Halloween-themed puzzle was Vermont Christmas Company's 1000-piece Halloween Barn Dance with illustration by Randy Wollenmann, a favorite artist of mine. The random-shaped, fully-interlocking pieces were sturdy and held together as I relocated them on the board, which I had to do often as I found it easiest to work on segments.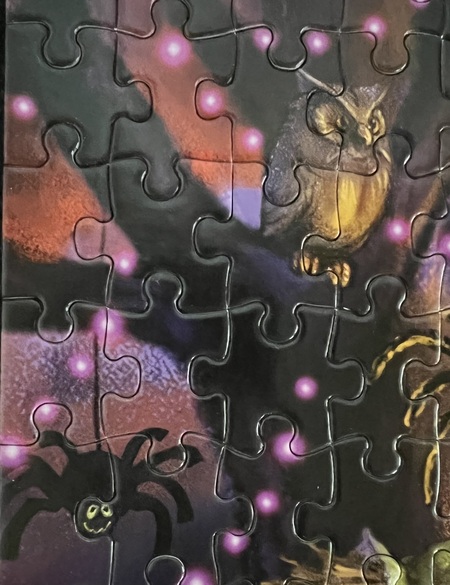 After the border, I zoned in on the sign, the bright red barn, the scarecrow's shirts. I then slid them into place as I filled in the rest - all the oranges in the pumpkins and leaves were devilish and made it quite challenging! Measuring 30" x 24" this puzzle JUST fit on my board.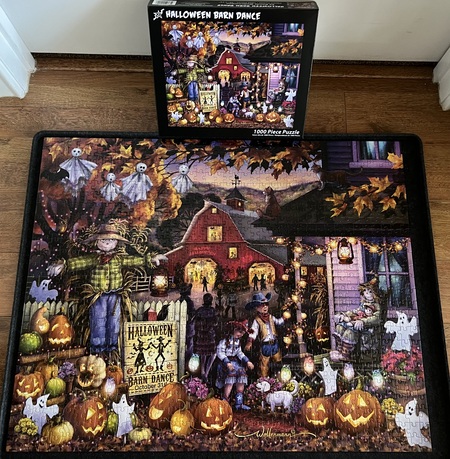 Last – but certainly not least as it was my favorite puzzle out of all featured in this blog – was this enchanting 500-piece, Dia De Los Muertos puzzle by Gibbs Smith. This was a "new to me" brand and I can assure you it will not be my last from them! They are an independent publisher and distributor out of Layton, UT that is employee-owned and a Benefit Corporation (B-Corp) that believes in taking care of the environment. If you are a fan of the feel of eeBoo's puzzle pieces you'll love these too, as they were very similar – glossy, solid and they held together well.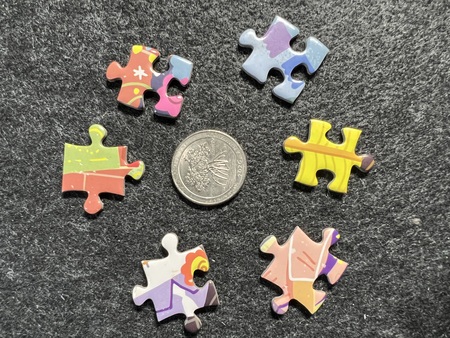 There were a few false fits, but the vibrant colors in artist Greg Paprocki's work, which was taken from his book, Day of the Dead, made it easy to distinguish what went where.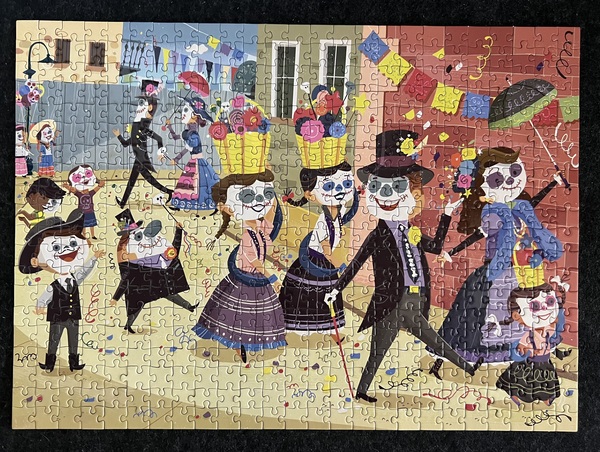 I had a howling good time completing these puzzles and want to say "boo" that I must wrap this one up. But there is always next year and these other puzzles have cast a spell on me for then – New York Puzzle Company's The Dogs of Halloween, All Jigsaw Puzzles' Chaos at Zombieland and Cobble Hill's Sugar Skull Cookies.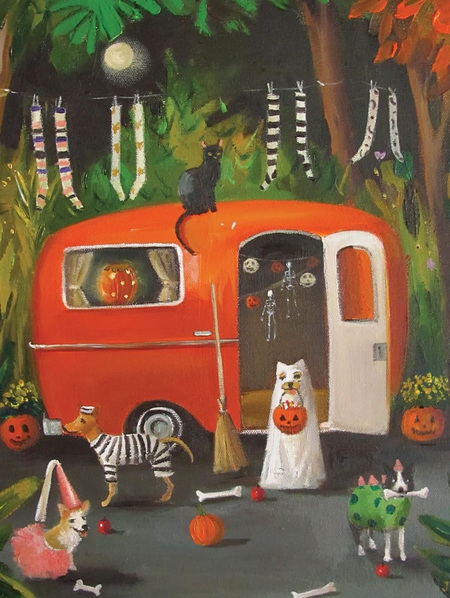 The Dogs of Halloween | New York Puzzle Company | 500 pieces

Happy Halloween,
Lisa - @lisalovespuzzles