My Shopping Addiction
I'm not sure why I love storefront puzzles, but I do. They tend to have banners across the top, straight window edges, a front door, and something on the sidewalk in front. In short, they have a lot of different details. Usually the area behind the windows is the most challenging, but I usually leave that for last when there are fewer pieces to hunt through. And these stores sell such a variety of items – flowers, puzzles, books, electronics, clothing, vintage items, toys, and more.
The Clothing Emporium from Vermont Christmas Company is 550 pieces with artwork by Garry Walton, made with recycled materials. It comes in a sturdy box that I appreciate as I'm running out of space on my shelves and need to stack my puzzles. Pieces are cut in a somewhat random grid pattern and align perfectly at all four corners. Pieces are sturdy, about 2 mm thick.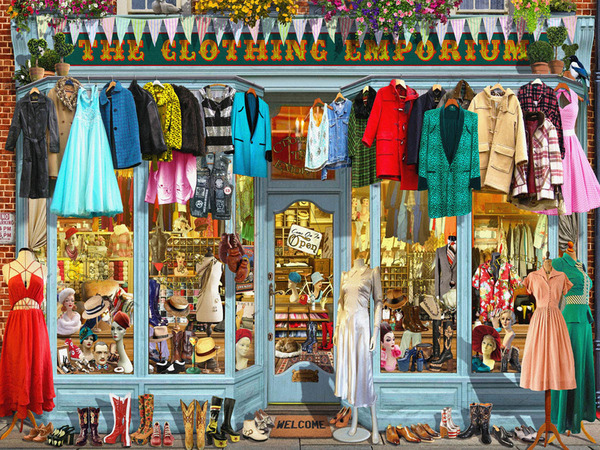 The Clothing Emporium | Vermont Christmas Company | 550 Pieces | 24x18 Inches
Usually I choose a 550 piece puzzle because I want something quick and easy. This turned out to be as challenging as a 1,000 piece puzzle; it just had fewer pieces. I put together the clothing hanging outside first and set them aside.
Then I worked on the flag banner and name of the store at the top. It was more challenging than I expected, but still doable. I had expected the light blue trim to be easy. It wasn't. But when I figured out that there were several different designs and shades of blue, things began to progress. I particularly liked all those shoes at the bottom: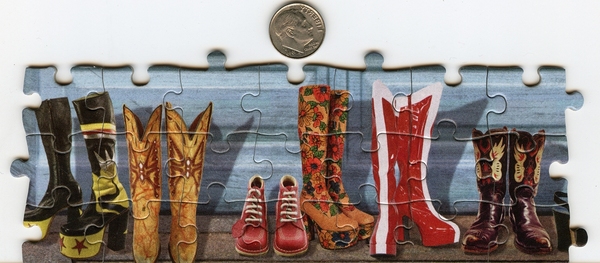 The inside of the store was more of a challenge, but by then I was down to fewer pieces so it was not impossible. In short, for a 550 piece puzzle this was just perfect.
Vintage Shop, another storefront puzzle from Vermont Christmas Company, with artwork by Garry Walton is 1,000 pieces and made in the U.S. from recycled materials.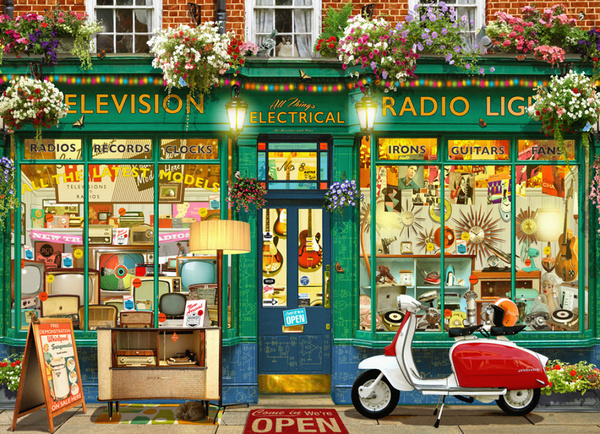 Vintage Shop | Vermont Christmas Company | 1000 Pieces | 26 5/8x19.25 Inches
I started at the top with the flags, words, and brick and worked my way down. Pieces are truly random cut. The resolution was clear – no dark fuzzy pieces here. The areas inside the windows were, as usual, a little more challenging, but still manageable.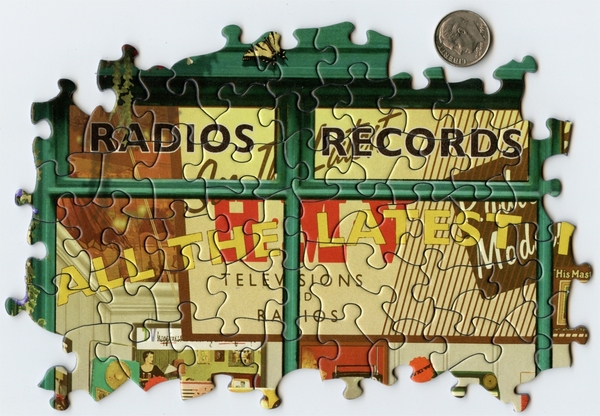 I have to admit, it was a little disconcerting to recognize so many items considered "vintage" in this store – the pink hair dryer, those record players for 45 rpm records, and those early TVs. We won't even discuss my knowledge of that wringer washing machine on the bottom left!
Vintage Bookshop from White Mountain is a 1,000 piece puzzle with artwork by Lena Art, made in the US with recycled materials.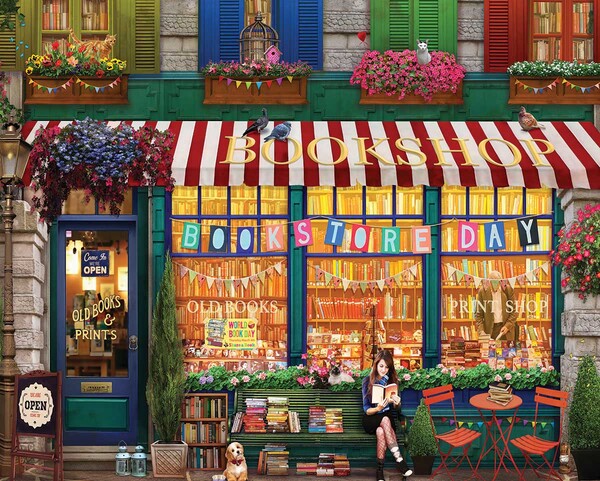 Vintage Bookshop | White Mountain | 1000 Pieces | 24x30 Inches
The pieces are slightly larger and random cut. They do not align at all four corners: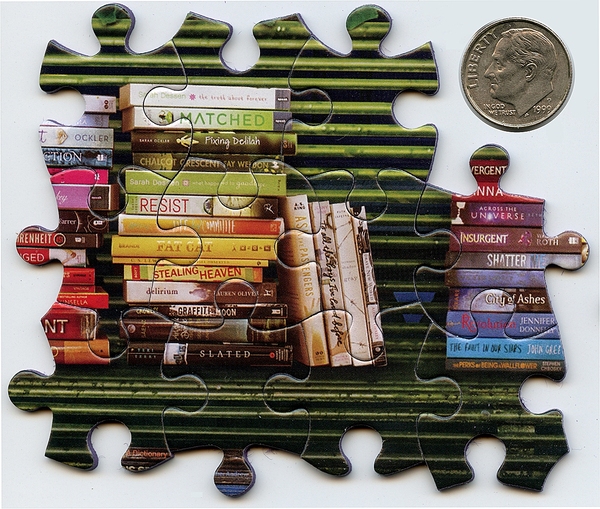 I particularly enjoyed the windows with their colorful shutters, the flower boxes, and the red and white awning. That part almost put itself together. If you like this bookshop, but want more of a challenge, Educa's Vintage Bookshop is almost identical, but with 4,000 pieces: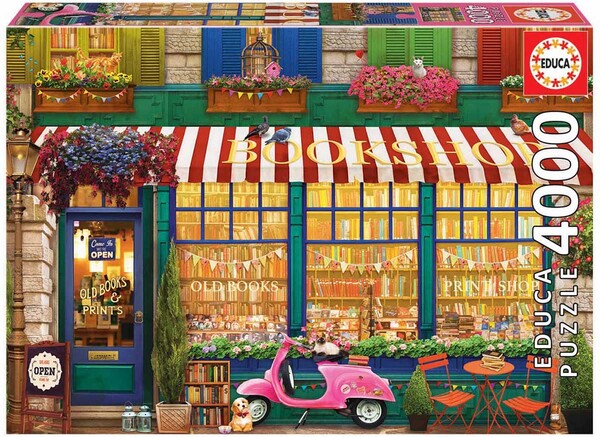 Vintage Bookshop | Educa | 4000 Pieces | 53.75x38 Inches
Educa Borras was founded in 1894 as Borras Plana. Almost all their products are manufactured in Spain. The pieces have a matte finish and are a standard grid cut, with some pieces having a curved edge rather than a connector.
Christmas Toy Shop from Buffalo Games is a 2,000 piece puzzle that would be perfect for a family holiday project. It's made in the U.S. from recycled puzzle board and comes with a reference poster. Pieces are ribbon cut with a variety of piece shapes.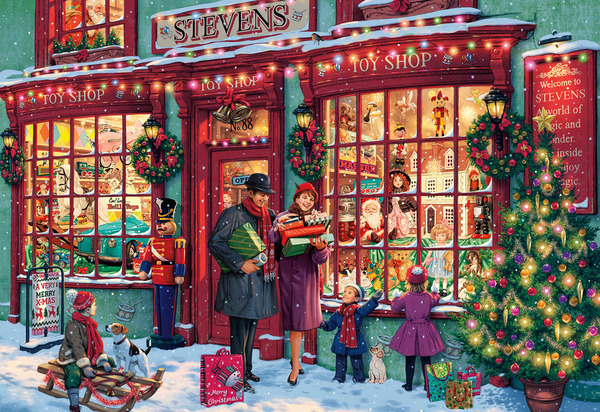 Christmas Toy Shop | Buffalo Games | 2000 Pieces | 38.5x26.5 Inches
Parisian Flowers from Cobble Hill is a beautiful 1,000 piece puzzle, made in the U.S. with vegetable based inks and recycled material. Artwork by Barbara Behr. It comes in their signature sturdy box with a reference poster.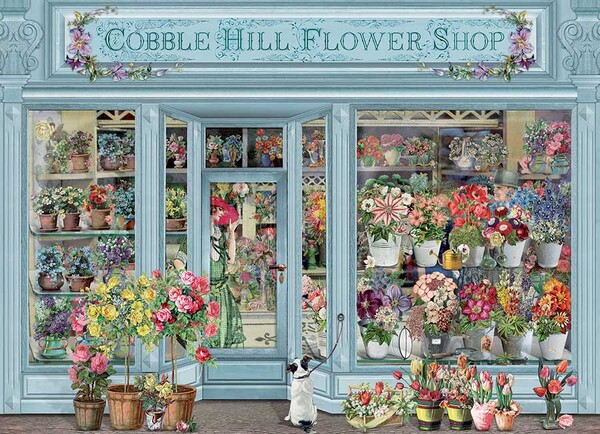 Parisian Flowers | Cobble Hill | 1000 Pieces | 26.6x19.25 Inches
Years ago I used to watch my mother remove an already placed puzzle piece and hold it over her remaining loose pieces to match the color or shape. I recently learned that this very effective technique is called "Matchmaking." Who knew it had an official name?
Too often I forget where I removed the piece, so I have learned to pull up an adjacent piece as a marker that tells me, "Put it back HERE!"
Happy puzzling,
Madelle