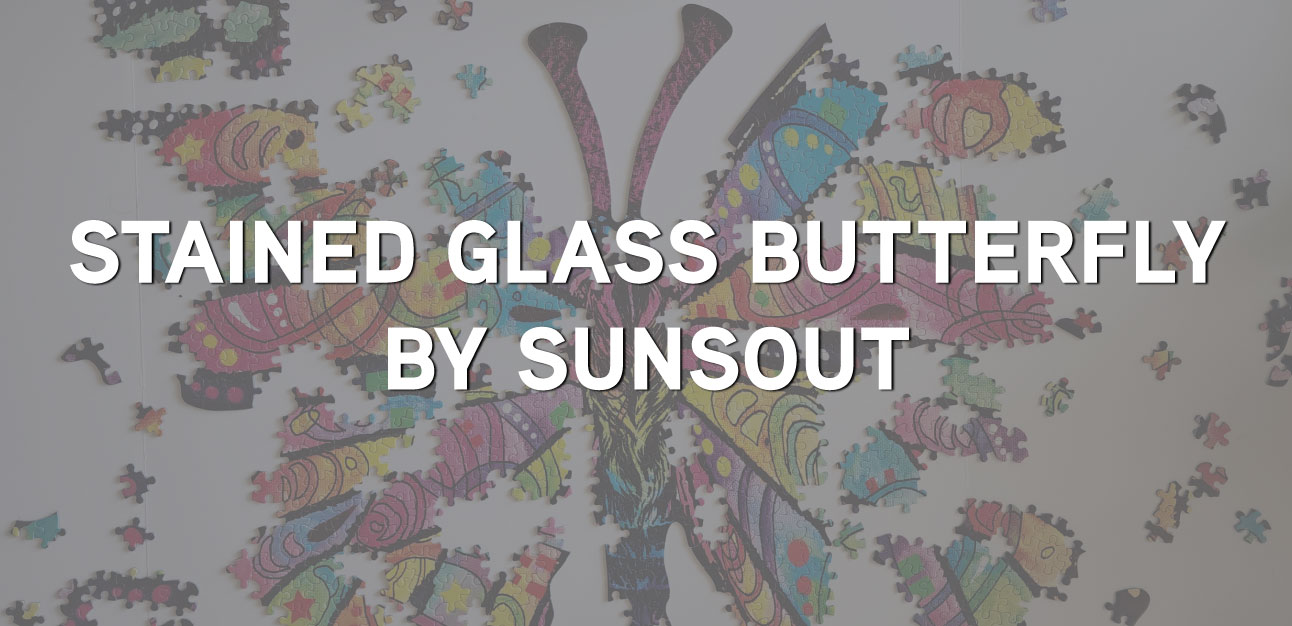 Stained Glass Butterfly by SunsOut
I think I've found a great puzzle to distract us from these hot summer days. It's called Stained Glass Butterfly by SunsOut. The artwork is by Dean Russo, a mixed media artist. You have probably seen some of his art before, he makes a lot of wonderfully beautiful pieces with pets as the subjects.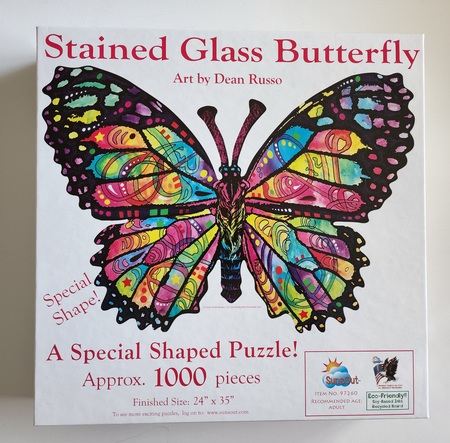 Stained Glass Butterfly | SunsOut | 1000 Pieces
This is a shaped 1000 piece puzzle. The brightly colored pieces are mostly ribbon cut (the shapes you find in most puzzles), but the edge pieces are unique shapes. The piece's are average thickness at 1.8mm.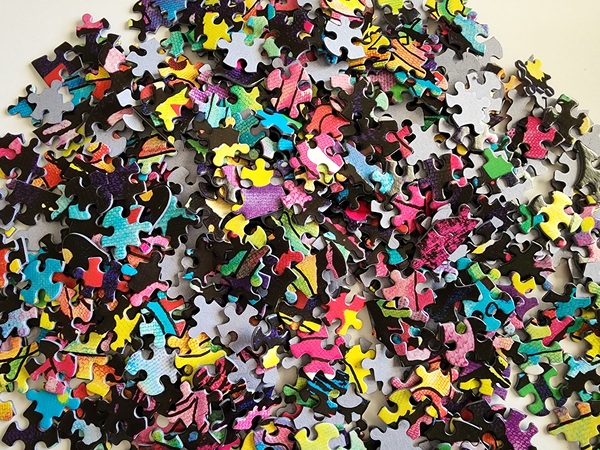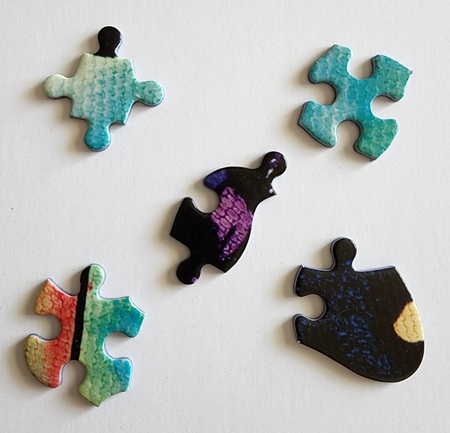 To attack this puzzle I decided to forgo my usual *edges first* plan and just sort all the pieces by color.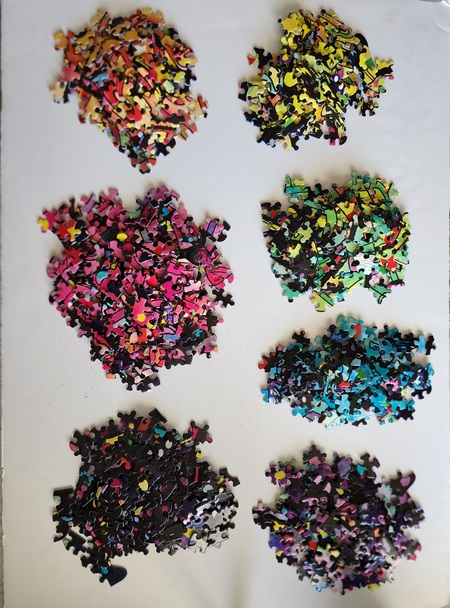 After all the sorting was done I wasn't sure where to start, so I started with my smallest pile, the orange-y pieces.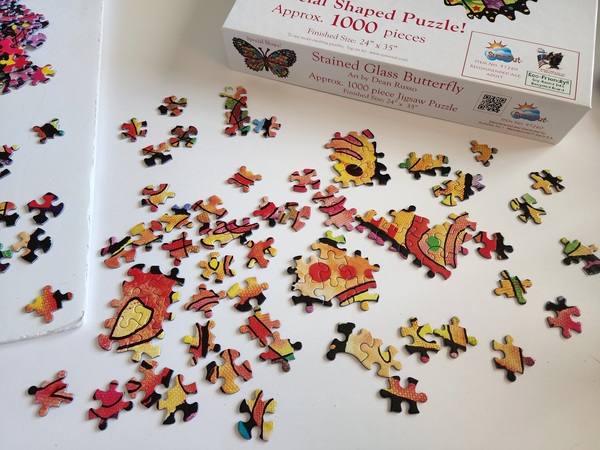 Sometimes with a challenging puzzle it can be difficult to know where to begin with it, so I just start anywhere and then let the puzzle pieces lead me. After working on what I could with the orange pile, I started working on the butterfly's body. There is a unique print on those pieces that makes them easy to find.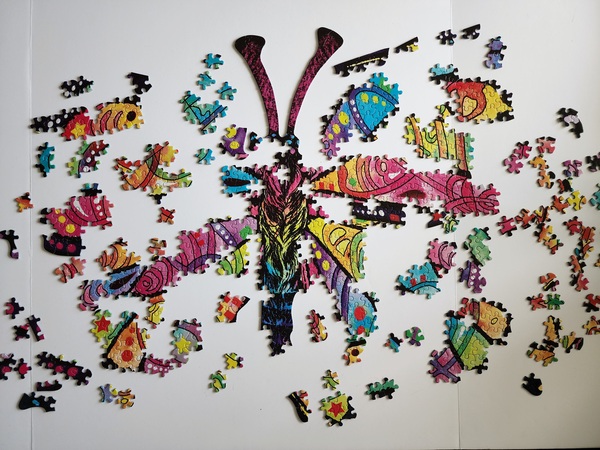 After the body, I worked through my color piles adding pieces where I could. My puzzle stand came in handy with this puzzle so I could easily reference the picture on the box lid and find where the pieces belong.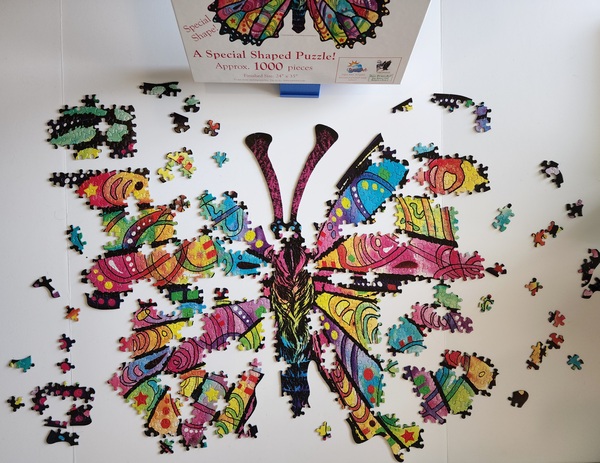 This puzzle is definitely a challenge, but the good kind. It is well made so I felt like I was constantly making progress. And after 8 hours and 13 minutes, I had a beautiful butterfly.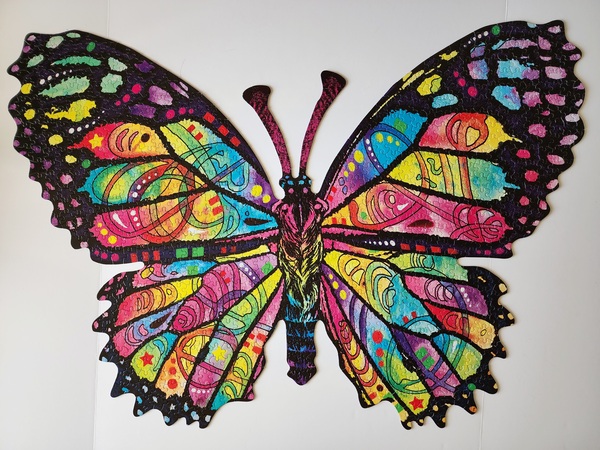 The completed size of this puzzle is 24" x 35", so make sure your puzzle area will accommodate it. This was quite enjoyable and I look forward to my next shaped puzzle!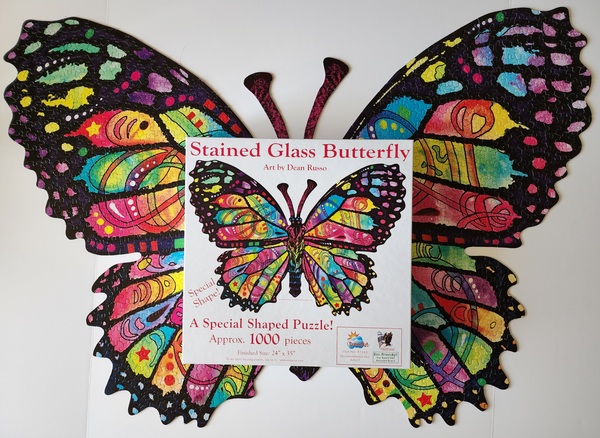 If you're in the mood to take on a shaped puzzle, Puzzle Warehouse has a great selection. Here are a couple of other butterfly shaped puzzles by SunsOut: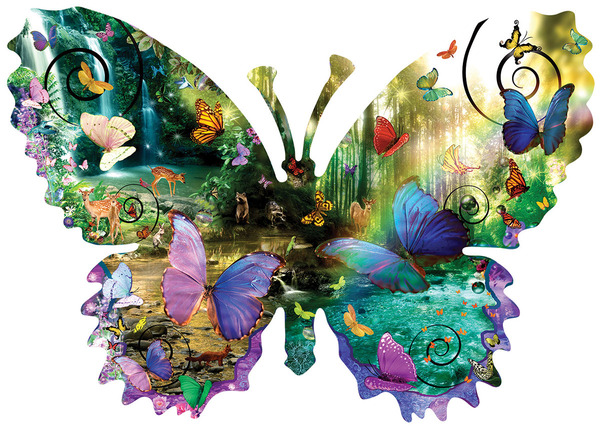 Forest Butterfly | SunsOut | 1000 Pieces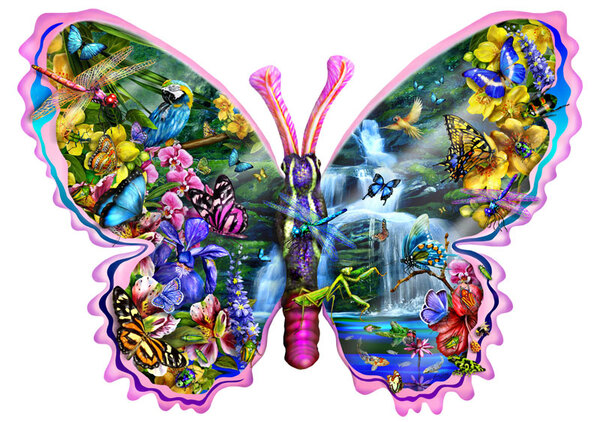 Butterfly Waterfall| SunsOut | 1000 Pieces
Hope you're keeping cool this summer, happy puzzling!
- Angel @endless.puzzles