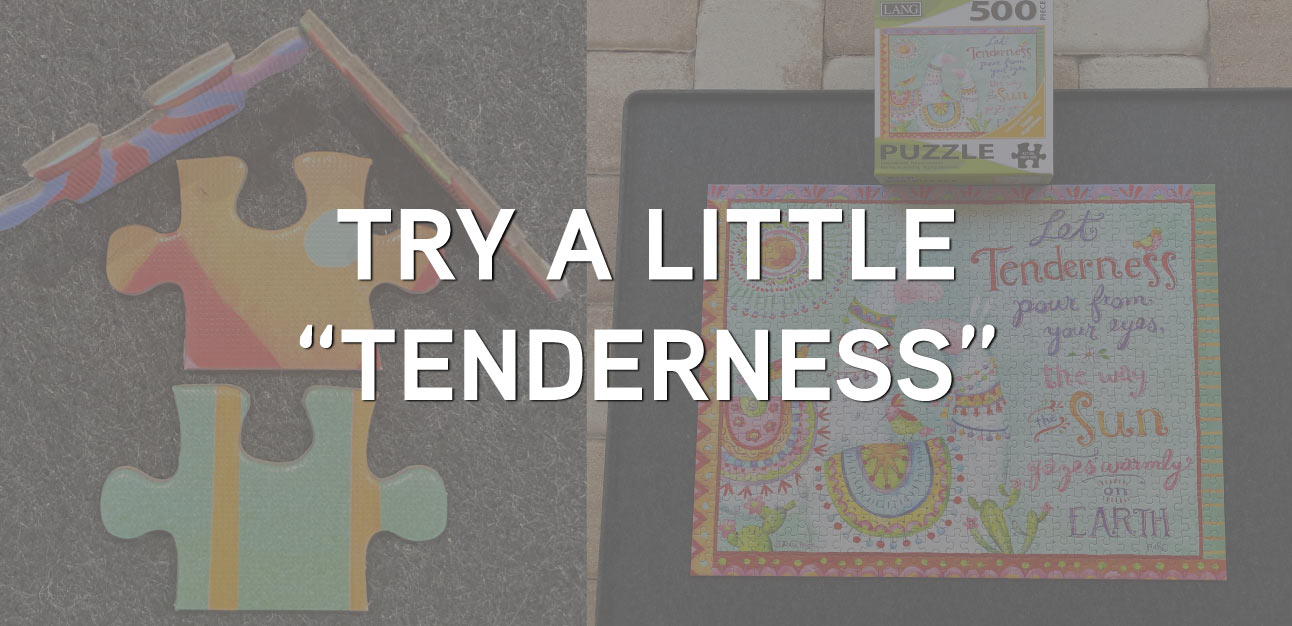 Lang: Try a little "Tenderness"
I started my obsession with puzzling a year ago and during that brief period, I have amassed quite a large collection of puzzles. This led to my husband puzzling as well. No, not over a jigsaw, but over my continued purchasing! Why so many? Well, we'll address that in a future blog (once I figure it out myself), but he was right in one respect. I should not have purchased so many so quickly. What happened is I committed the rookie move of purchasing puzzles solely on the image. I didn't realize that the make of the puzzle mattered just as much, if not more! I've realized since that I need to try different brands to find ones that have quality pieces. Therefore, in Year 2 of "Lisa's Obsession With Puzzling," my resolution for 2022 was to try as many "new to me" puzzle brands as possible, so I can home in on those that truly delight all my puzzling senses.
The very first new brand I set out to try in 2022 was Lang and my choice was a 500-piece cheerful puzzle called "Tenderness." Founded in 1982, Lang quickly gained a reputation for beautiful imagery, working with numerous talented artists, such as the one who created this puzzle, Debi Hron, well-known for her whimsical and vividly-colored designs.
LANG is also known for being big on attention to detail, and this puzzle didn't disappoint. It came in a resealable, dust-free bag, so no need to find a Ziploc when I was done. I swear I should buy stock in that company with the number of bags I've raided from my kitchen stock to store puzzles in. I am definitely NOT a "work from memory" type of girl, so I also appreciated the poster and a pop-up, easel-style box for easy reference as I worked on the build.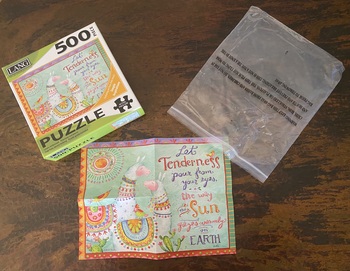 What drew me to select this particular puzzle was, of course - as I've already confessed to you it always is - the image! One of my and my husband's last international trips before the pandemic was to Peru to see Machu Picchu. While seeing one of the New Seven Wonders of the World was awe-inspiring, our favorite part of the trip was a llama blessing ceremony. This was truly breathtaking, for more than one reason. As flatlanders, we were literally gasping for breath after being dressed in traditional clothing and dancing to music during the ceremony high up in the Peruvian mountains! As in the name of this puzzle, we were also treated with "tenderness" afterwards with the locals who performed the ceremony opening their humble home to us to dine on a pig and potatoes that had been roasted underground. Hands down, the best meal we had in Peru!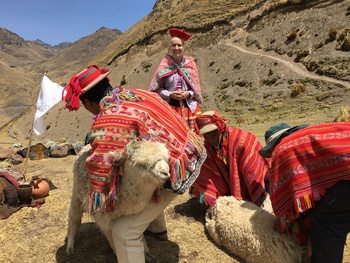 Just like our trip to Peru, this puzzle was a joy! The quality was fantastic with linen embossed paper, a matte finish and precision-cut, thick pieces that snapped into place with no false fits.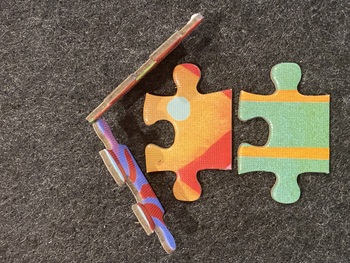 My process for doing puzzles is, like so many others, to sort by color first while pulling out all the edge pieces. Once that was done, it was time to do the border, which I found easy considering each edge had its own color pattern.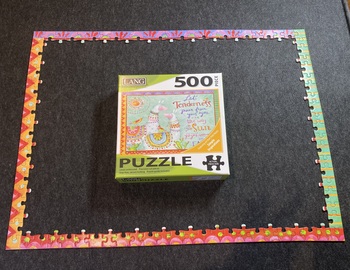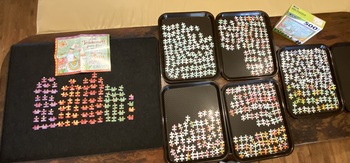 On the interior of the puzzle I started with the words that form the beautiful message behind the name of this puzzle – "Let tenderness pour from your eyes, the way the sun gazes warmly on the earth."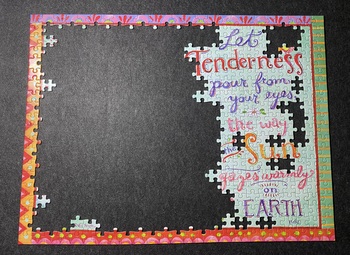 The cacti were up next and I worked my way from the ground up with the llamas' blankets, followed by the birds, the llamas' beads and that gorgeous sun. I'm a fiend for color patterns, so for me, it's natural to leave what's worst for me for last – areas of sameness. So, I finished with the llamas' bodies and finally the blue background, which actually turned out to not be too bad, as there were gradients in the background.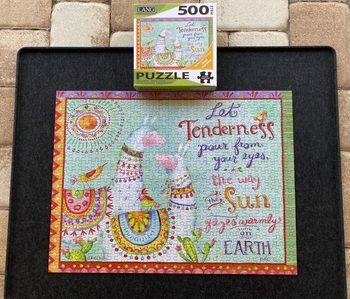 I named this blog "Try a Little Tenderness" not only because of the name of the puzzle, but because it is a smaller piece count than I usually work on. I typically work 1000-piece puzzles. In fact, I was a bit of a snob about that at the beginning. That is, until a friend loaned me a 500-piece puzzle and I thought, "Why not?" Well, there began my love affair with rotating in puzzles with a smaller piece count from time-to-time to serve as a nice change of pace. As usual for a 500-piece, I finished this puzzle in one night and I just kept smiling as I looked at the finished product which measured 24" w x 18" h. I mean, how could you not smile looking at this cheerful pair?
I will definitely be adding Lang to my approved list. The next puzzle of theirs I'm eyeing up is "Slothiness," a 750-piece cutie with another great message of "Slow down, happiness is trying to catch you!" If you, like me, love llamas LANG also offers a 500-piece "Cactus Llama". If you prefer realistic to cartoonish, I can also recommend Peter Pauper Press' "Llamas," which I did a few months ago. I was worried about that one when I first got it because of all the browns and greens (remember, I don't like sameness), but it was actually an enjoyable build and I swear it looks like the same exact mountain where our llama blessing ceremony was held!

Slothiness | Lang | 750 pieces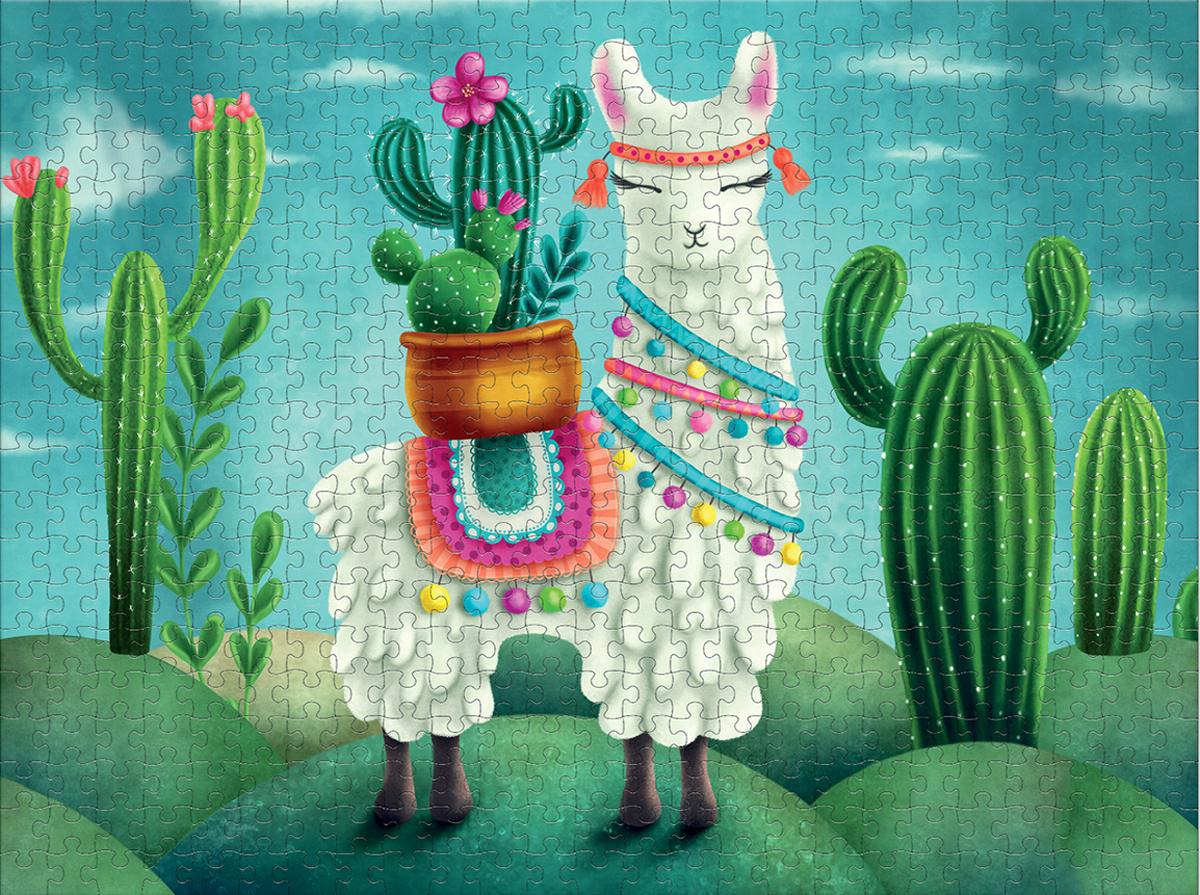 Cactus Llama | Lang | 500 pieces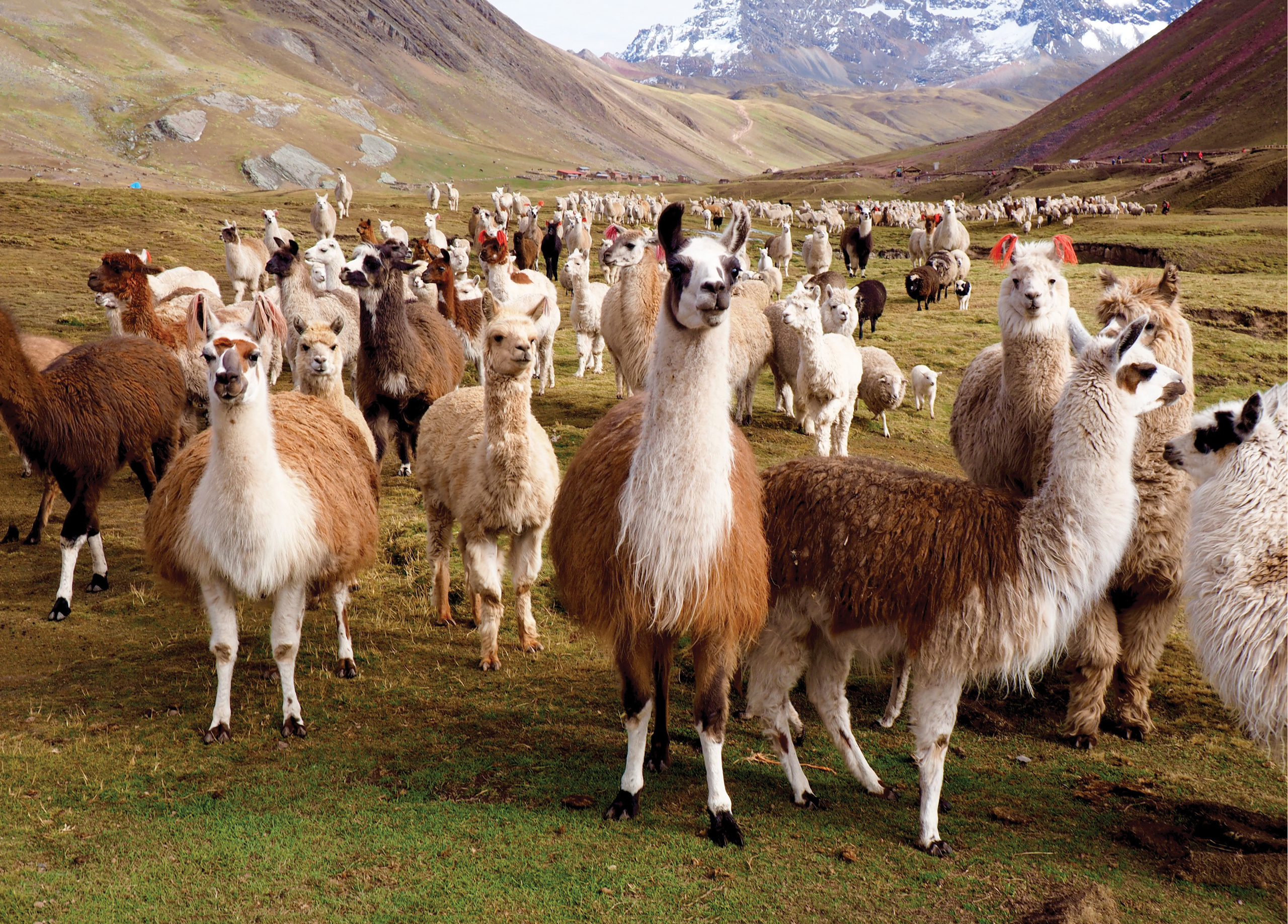 Llamas | Peter Pauper Press | 1000 pieces
I'll leave you with an encouragement to take the message of this puzzle to heart and go out there and let tenderness pour from your eyes. Goodness knows we could all use it during these difficult times and you just may find it makes your day as much as theirs!
-Lisa
Terrific post! I That one is in my to do pile and up next!
One of my favorite brands...great product; was happy to see they have added the 1000 piece count.