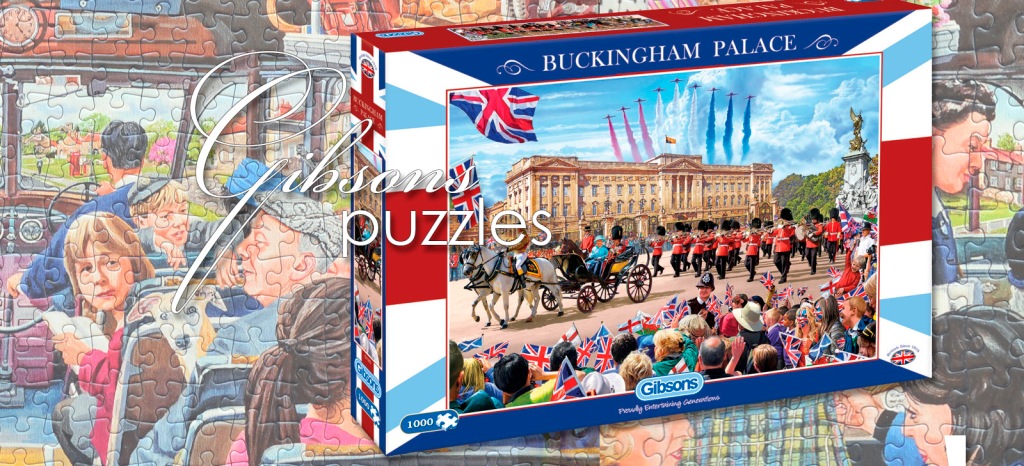 Feature: All About Gibsons
This week at Jigsaw Junkies, we're celebrating the addition of Gibsons puzzles to the Puzzle Warehouse inventory. This is the first time Puzzle Warehouse (based in St. Louis, Missouri) has carried Gibsons (a UK puzzle company), and offered American shoppers a quick and less expensive way to get these wonderful puzzles.
Earlier this week, I reviewed Gibsons' "The Fishing Shed" (1000 pieces) and one of their 4×500 sets, "A Trip to the Shops". For this feature post, I'll be exploring the sorts of puzzles Gibsons makes and a bit of their history.
Gibsons History
Gibsons was founded by Harry Gibson in 1903 as a greeting card company. In 1919 Harry sold the greeting card line and began making puzzles. His goal was to bring a new, luxiurious feel to the puzzle market. Gibsons puzzles are high quality, made with 100% recycled puzzle board, and have sturdy and attractive boxes with royal blue backgrounds. Most of the puzzles they make are from specially commissioned images from British artists, and these images are designed with great care to be excellent jigsaw puzzles.
The Gibson family is still running the company. You can read my interview with Harry's great granddaughter, Kate Armitage, here. She is the Director of Marketing for Gibsons. The Chairman is Michael Gibson, Harry's grandson.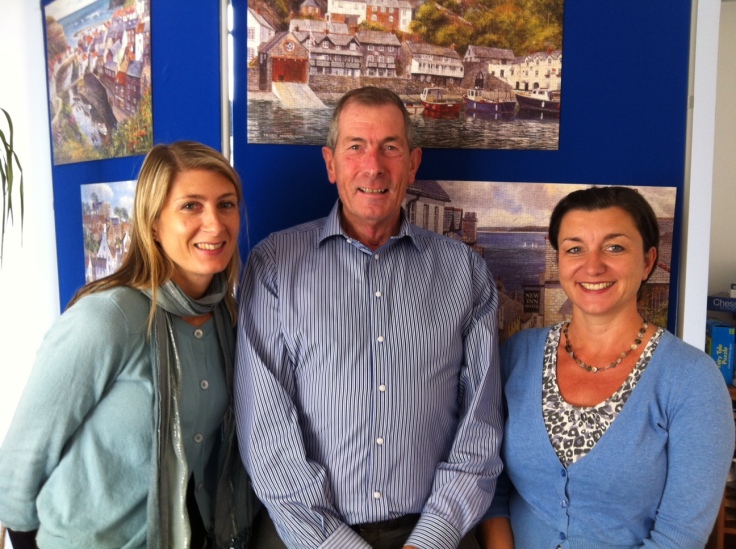 Above: A family business. Michael Gibson, in the middle, is the current Chairman of Gibsons and Harry Gibson's grandson. Kate Armitage, on the left, is Harry's great grandaugher and Director of Marketing. On the right is Michael's niece Nicki Gumbrell.
The Gibsons Brand
Gibsons is a high-quality, AAA brand. You can see our full brand comparison here. I've done many more Gibsons puzzles since I first wrote that brand comparison. I think the things that stick out to me about Gibsons puzzles are the thick pieces, the waxy matte finish (which has a terrific tactile feel), the gorgeous deluxe boxes, the way they feature their artists on the front and back (usually with an author bio on the box), and their wonderful images. I also love their "sets", for example, 4 puzzles of 500 pieces each, in one box with the same theme. These are unique in the puzzle market. (Though other brands are copying it more now.)
Gibsons works with a number of artists, mostly British, including Trevor Mitchell, Tony Ryan, Tracy Hall, Derek Roberts, John Francis, Mike Jupp, and Sarah Adams. Most, if not all, of the images they use for puzzles are specifically commissioned by Gibsons. This is really key in a brand. Many puzzle brands save money by licensing from art licensors. There's nothing wrong with this, and many good puzzles are made that way. But you might see that same image made by a number of different puzzle brands and the images are sometimes 'nice art' but not necessarily ideal for puzzles. Because Gibsons commissons art, and works with the artist as the image is created, they can make sure it's an ideal image for puzzling.
The brand now carries over 250 titles, from children's puzzles up to 2000 pieces. They also make 500XL size puzzles. They release over 50 new jigsaw puzzles each year. Many are released in January, but they keep releasing throughout the year. There're always new puzzles to satisfy the most active puzzler!
I'm going to talk about the Gibsons line-up and a few of my favorites.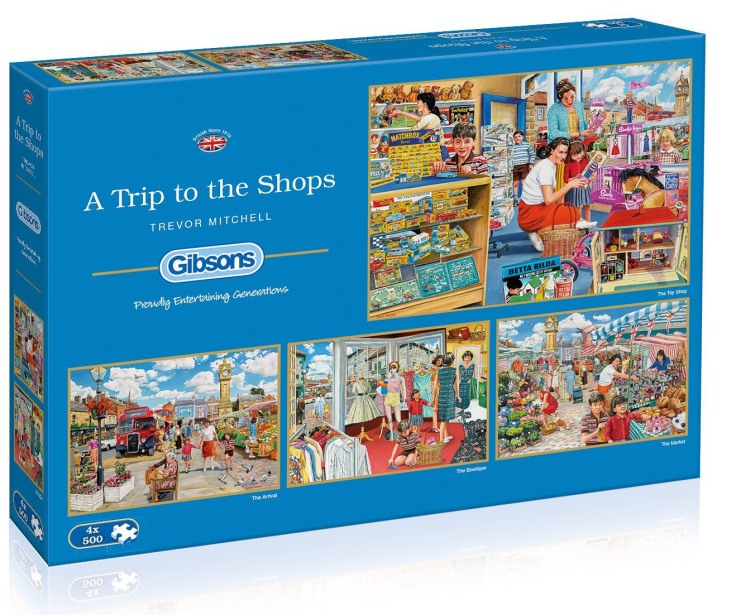 Above: Most Gibsons puzzles come in these distinctive royal blue boxes.
Limited Edition Christmas Puzzles
I first tried Gibsons because of their limited edition Christmas puzzles. I'm a big fan and collector of Christmas jigsaws, particularly the limited edition ones from Waddingtons, Gibsons, Ravensburger, WH Smith, and others. The Gibsons limited edition series was up to release #13 in 2015. Most of the puzzles are based on images created by Marcello Corti just for Gibsons, so you won't find them elsewhere. They come in lovely gold boxes.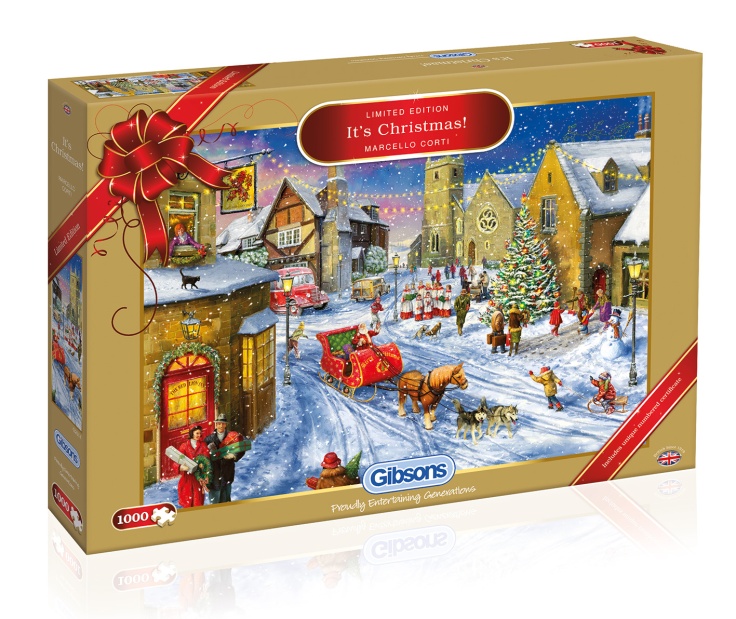 The puzzle comes with a limited edition certificate. Once the puzzle is discontinued, they can be hard to find!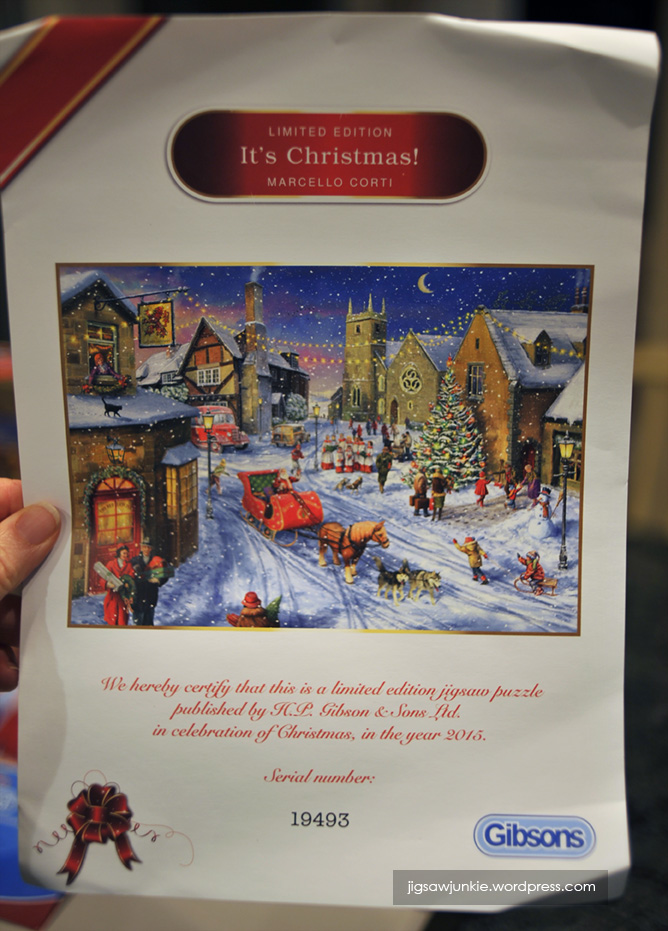 I absolutely love these Christmas puzzles and I'm excited to get mine each year! So far, they haven't let me down. We don't currently have any of the Christmas puzzles in stock at Puzzle Warehouse, but hopefully we'll be getting the 2016 puzzle when it releases. They usually come out in July-Aug time frame.
British Nostalgia Puzzles
Another type of puzzle Gibsons excels at is British Nostalgia, such as the wonderful "The Postman's Round" by Trevor Mitchell, shown below. (click to see this puzzle on the Puzzle Warehouse site).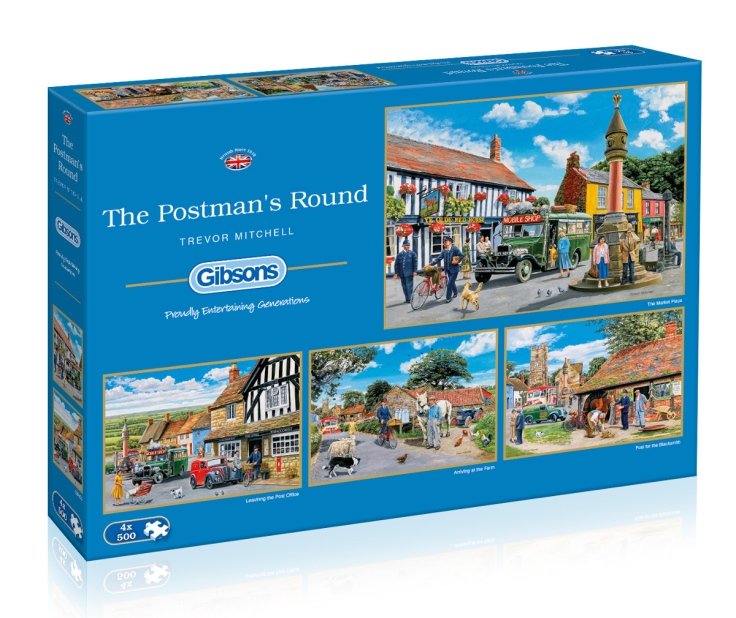 I'm a big fan of British Nostalgia, which may seem strange given that I'm American. However, I grew up on Agatha Christie, Masterpiece Theater, Jane Austin, and Monty Python. So in some ways, British Nostalgia generates that cozy, vintage feeling in me more than Americana does. A lot of British Nostalgia is set in the late 40's and 50's, after WWII, or even during WWII. Whereas much Americana is set further back, like Charles Wysocki's early American paintings.
Here are some of my other top picks in Gibsons' British Nostalgia.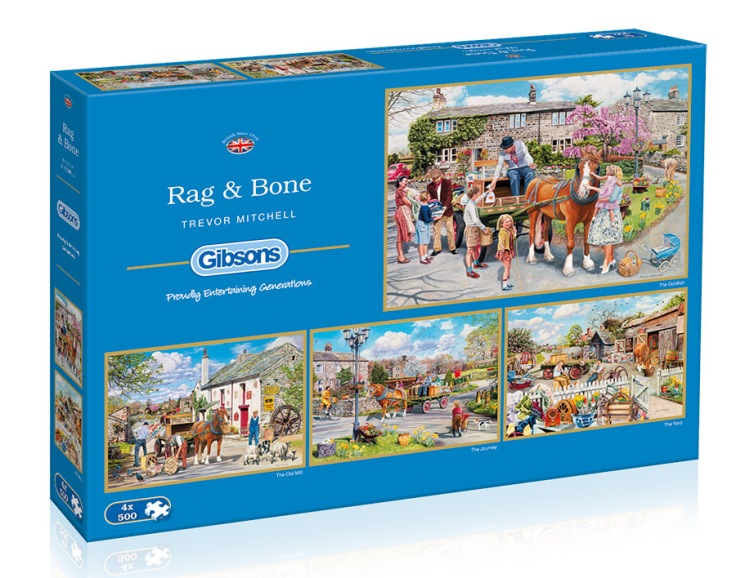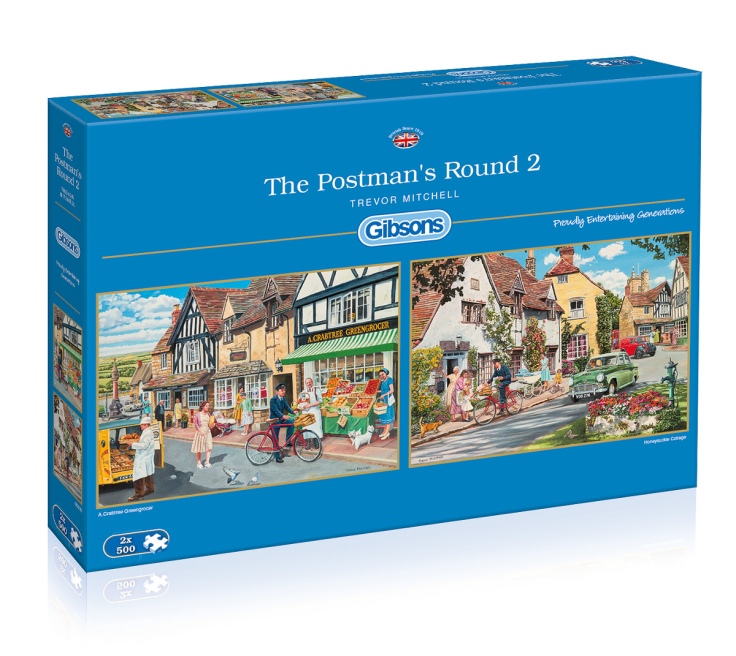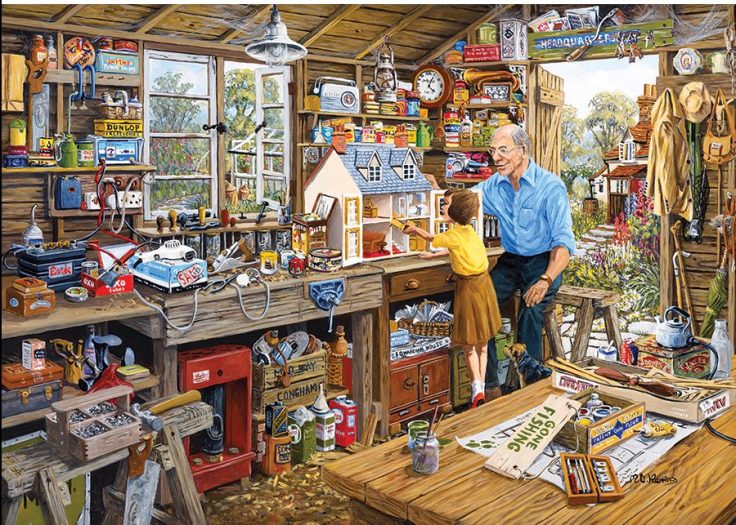 Above: Grandad's Workshop, 1000 pieces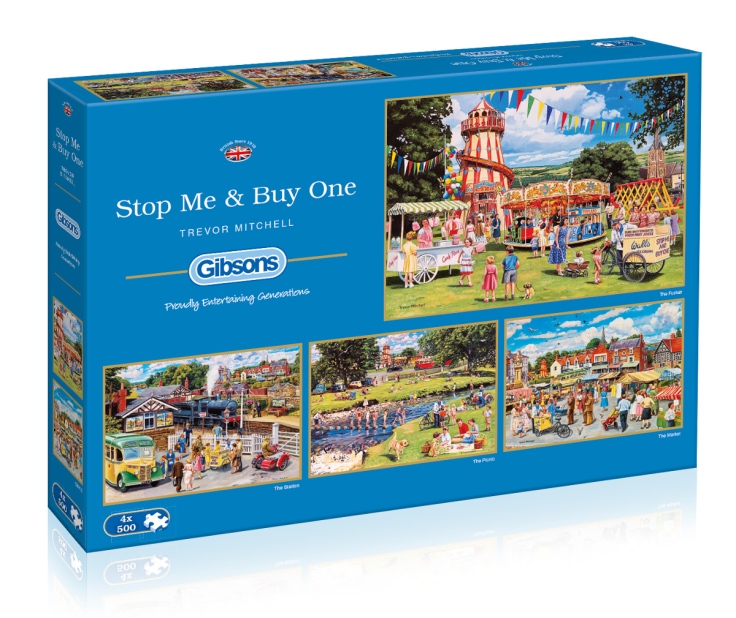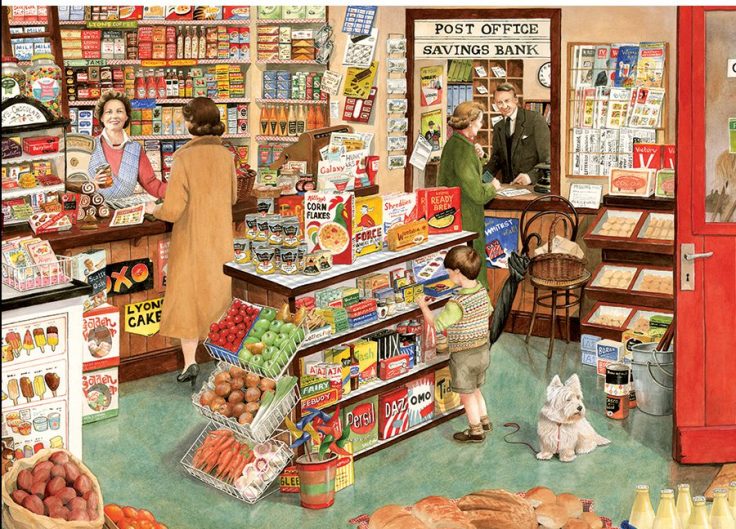 Above: The Village Shop by Tracy Hall, 1000 pieces
I Love series
Another of Gibsons most popular series is the "I Love…." series of cartoon puzzles by Mike Jupp. Being a cartoon puzzle afficianado, I've done a number of puzzles in this series and I can say they're among the best cartoon puzzles available anywhere. You can see my reviews of "I Love" puzzles here. And we also have a page on the entire series here.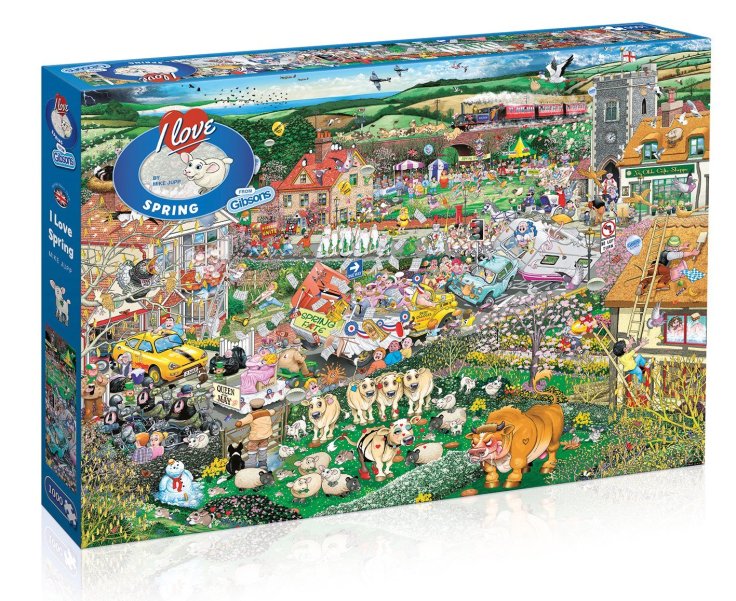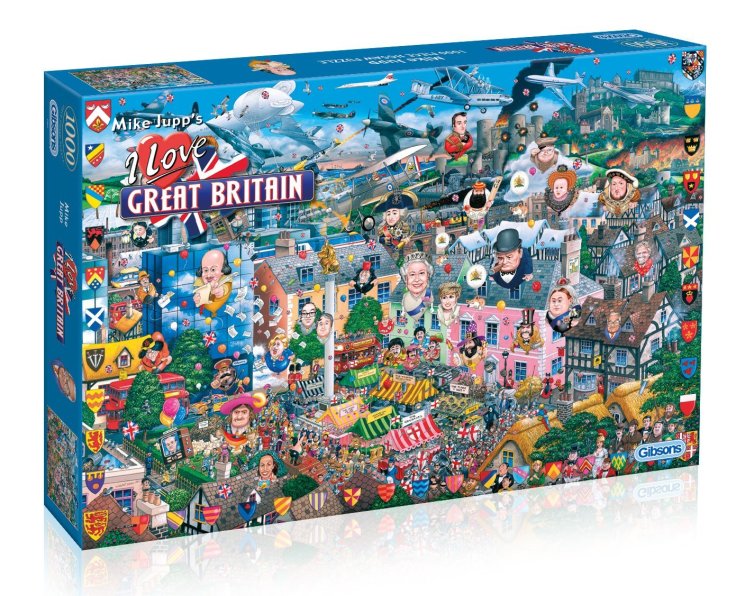 View all the Mike Jupp "I Love" puzzles on Puzzle Warehouse.
Transportation
Gibsons also specializes in transportation images–trains, airplanes, and the like.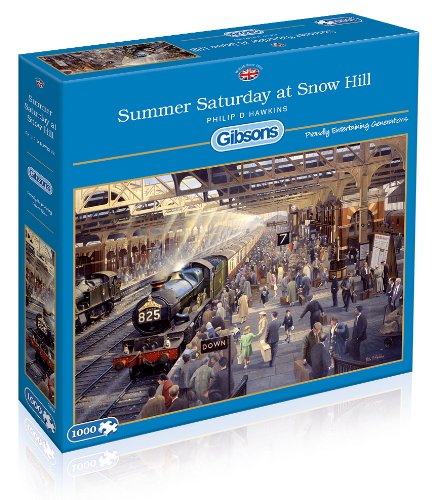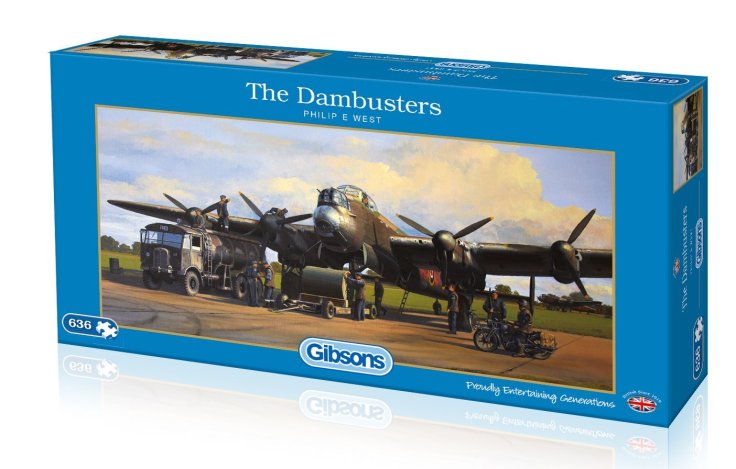 Vintage Collages
Gibsons collage puzzles are usually very British-centric, such as the Queen Elizabeth puzzle below.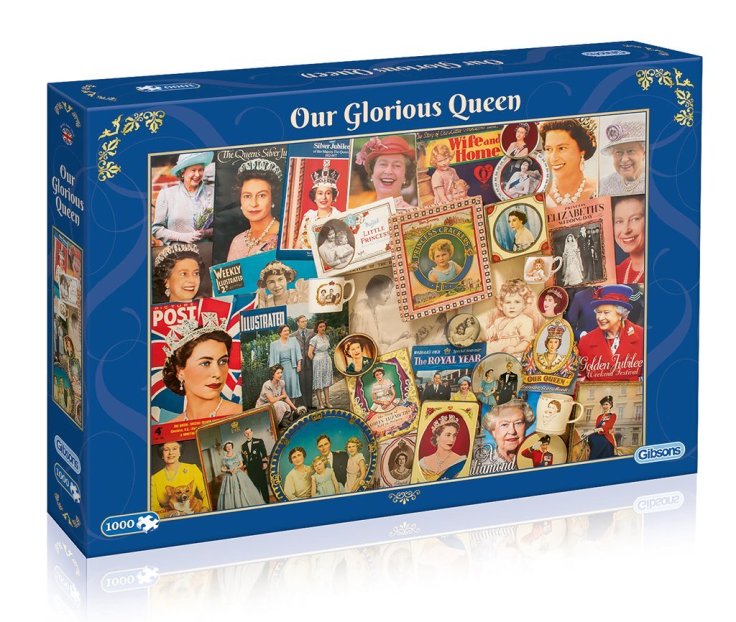 However, this collage of vintage vehicles, called "Motoring Memories" in 1000 pieces, is available at Puzzle Warehouse.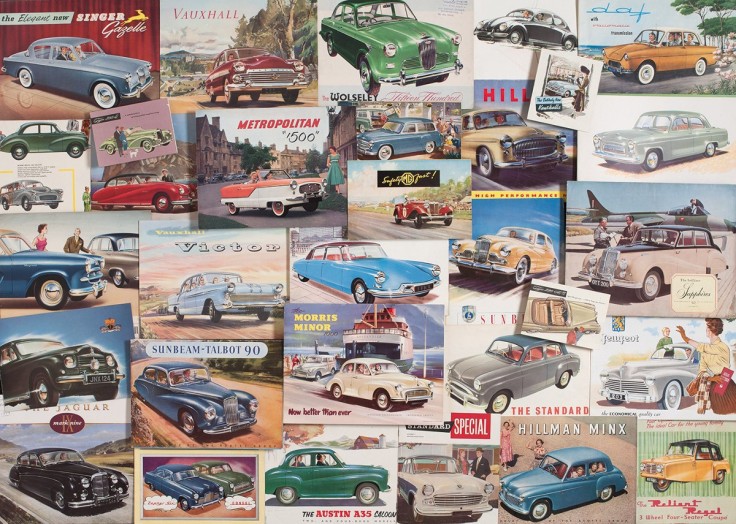 British Scenery
Gibsons scenery puzzles mostly focus on quaint British villages and cottages. Here are some lovely current puzzles.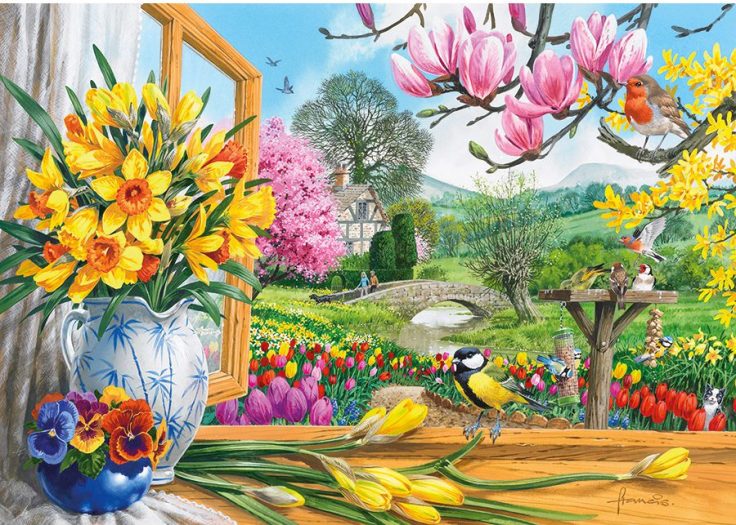 Above: Springtime Splendor, 500 pieces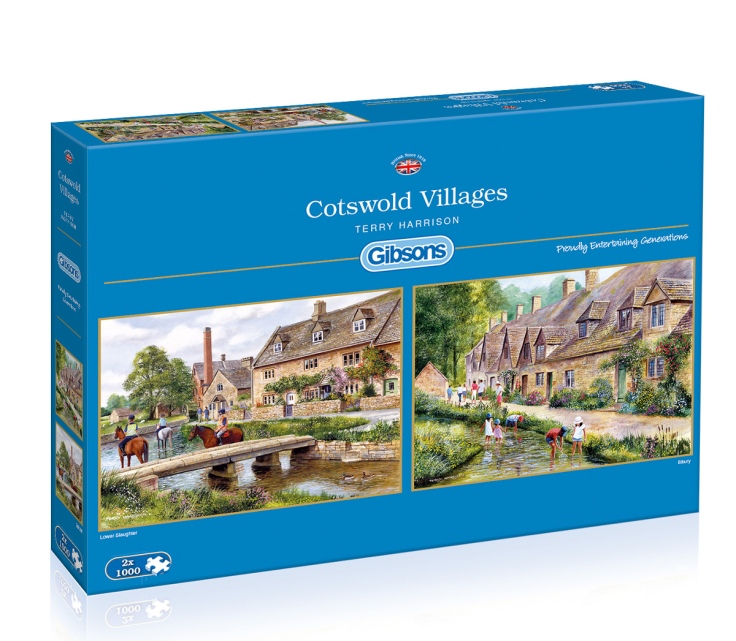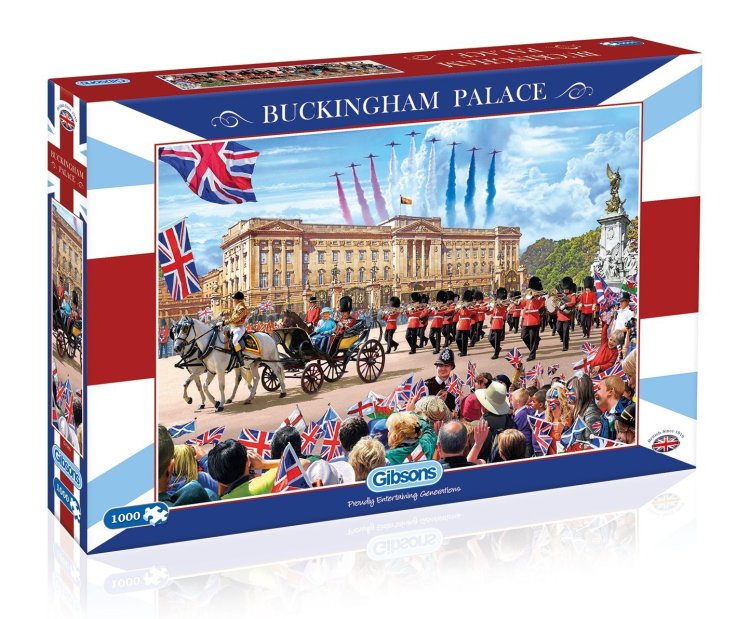 Above: Buckingham Palace, a current day scene of the Queen near Buckingham Palace. Look at this gorgeous box! This is a Steve Crisp painting.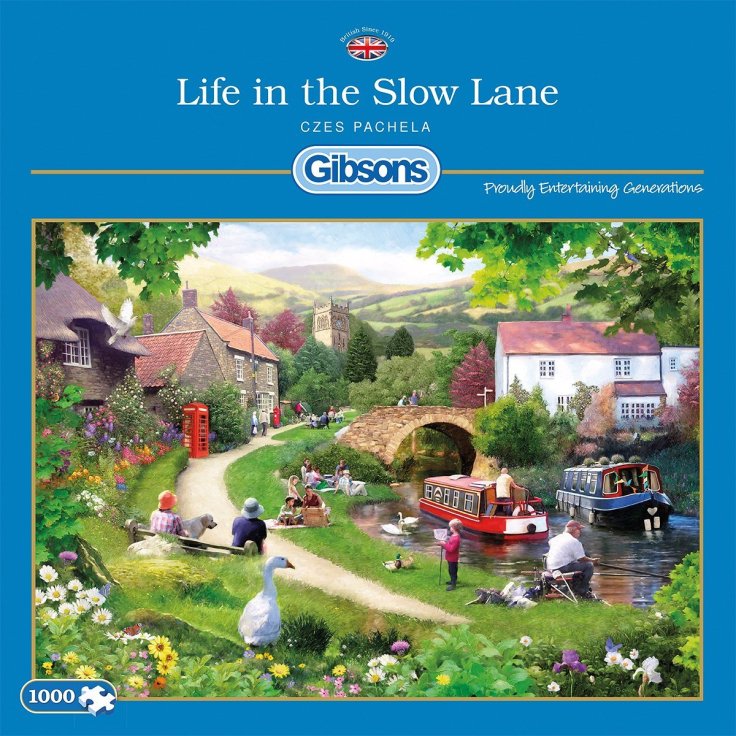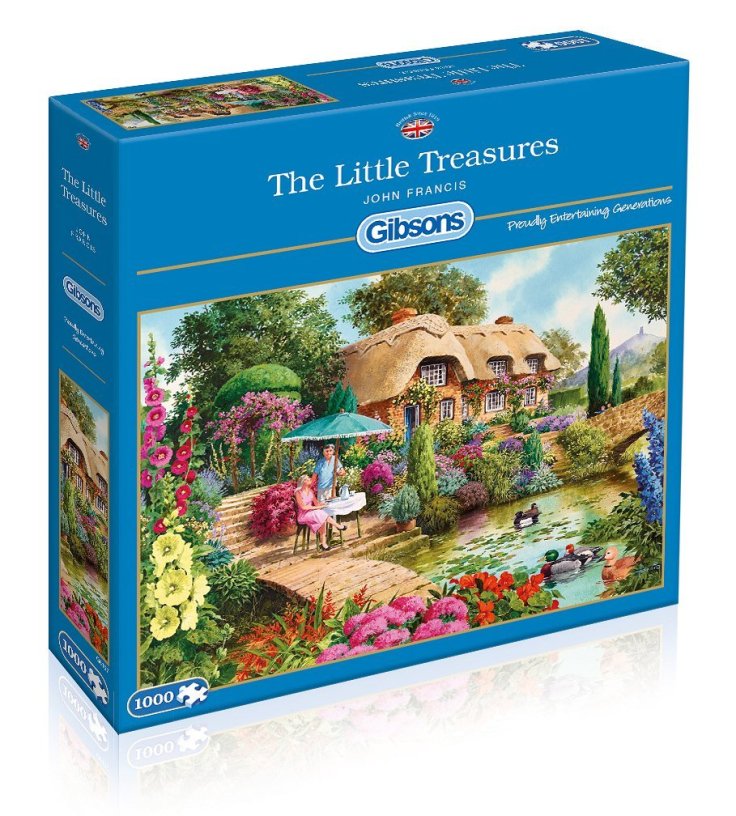 That's it for my round up of the Gibsons brand. If you have any thoughts on Gibsons puzzles please share below!
Jane