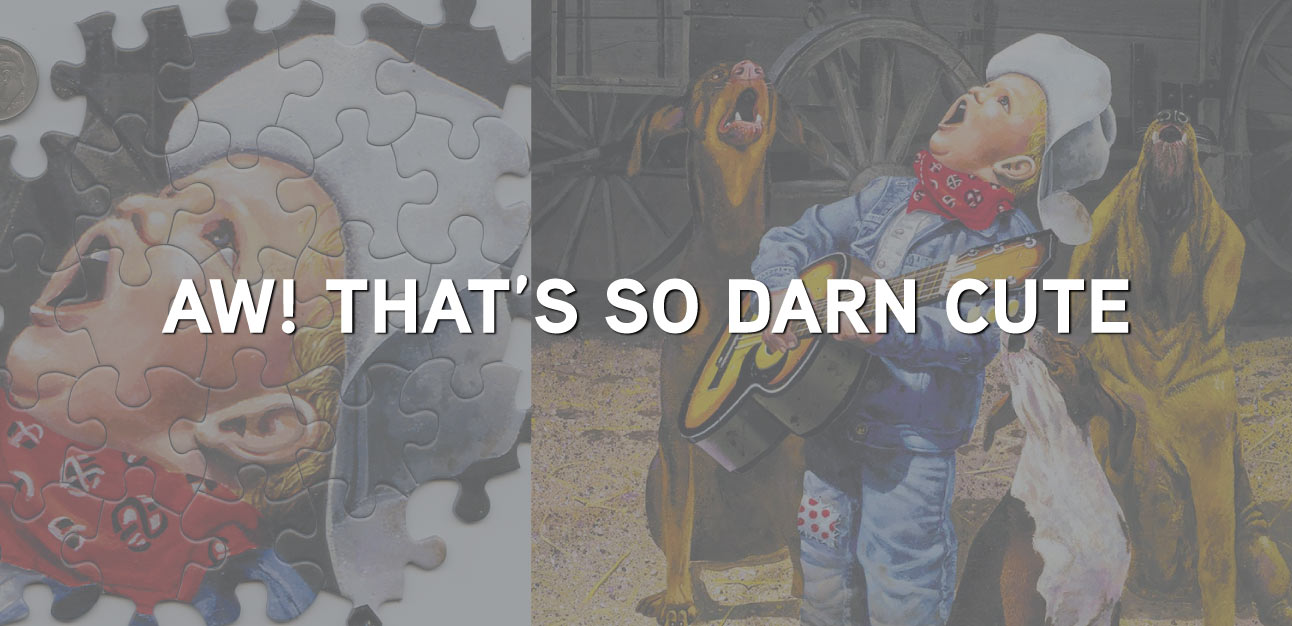 Aw! That's So Darn Cute
It's a good day when just looking at a puzzle can make you smile. As I was browsing through the puzzles at Puzzle Warehouse I found this adorable little guy just singing his heart out. It made me chuckle. You have just gotta love how this quartet gives their all to the song.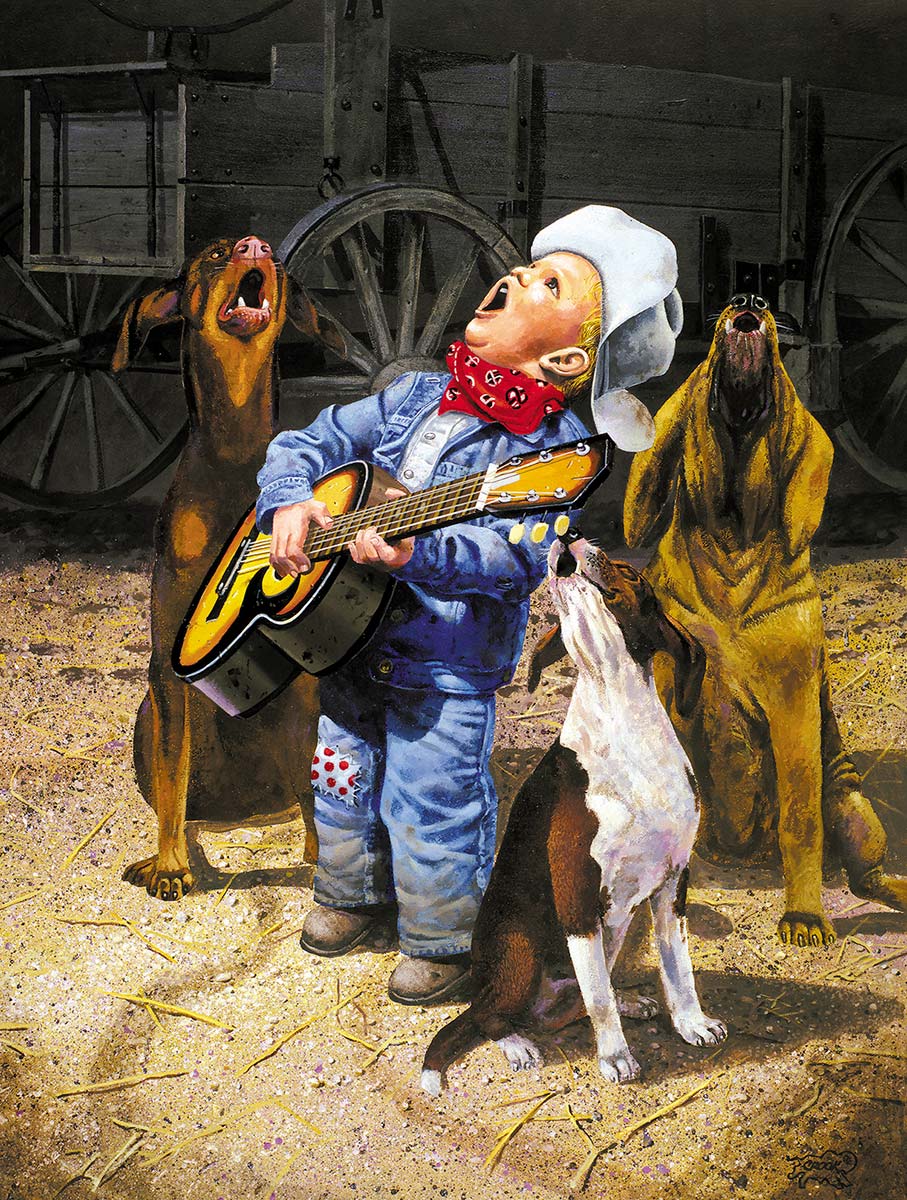 Singing Cowboy | SunsOut | 500 Pieces
Singing Cowboy from Sunsout is a 500 piece puzzle, made in the U.S. with soy-based ink and recycled board, artwork by Don Crook. I usually prefer 1,000 piece puzzles, but once I started working this one I was pleased because even though it was smaller, it was still a bit of a challenge.

While the pieces are random cut, there are only 6 or 7 basic shapes.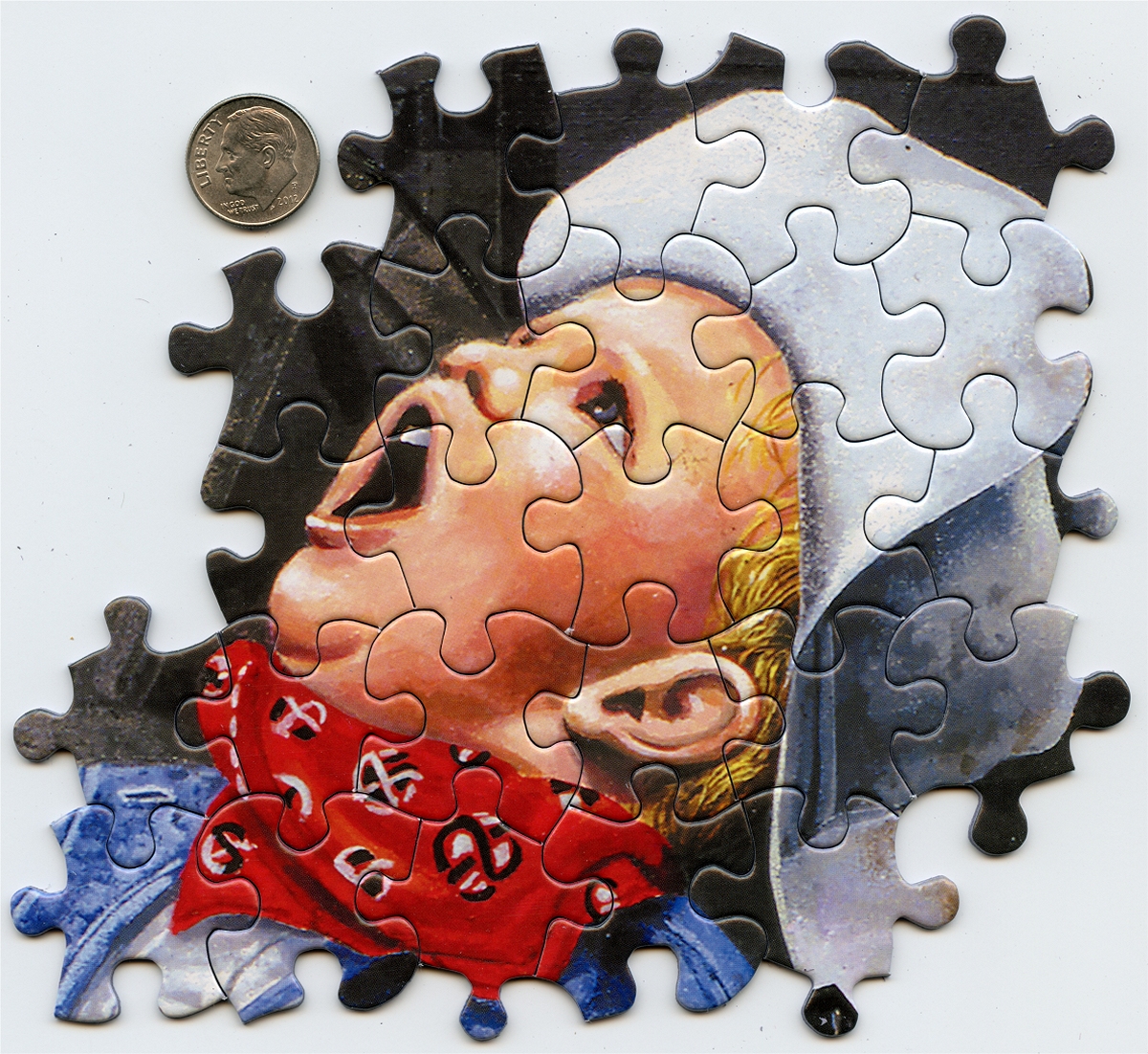 When I got to the wagon, I had to sort the pieces by shape as that part of the puzzle is darker than shown. Shape was often my only clue as to where a piece went.

Wondering if there were more puzzles of kids that would cause me to go, "Ahhh, that's soo cute!" I started to search and I found a bunch. I'm going to list a few more than I usually do because these can be a little hard to find. Searching on the word "domestic" is one place to start.

Suspense is from Eurographics' Fine Art Collection. It's a 1,000 piece puzzle made from recycled board and printed with vegetable based ink. Artwork is by Charles Burton Barber, a 19th century British painter famous for his paintings of children and their pets. The dog and cat look pretty intense. I wish they could talk so I'd know what they're thinking... On second thought, I know what they're thinking. They're hoping they'll get some of that food. At least they're waiting politely.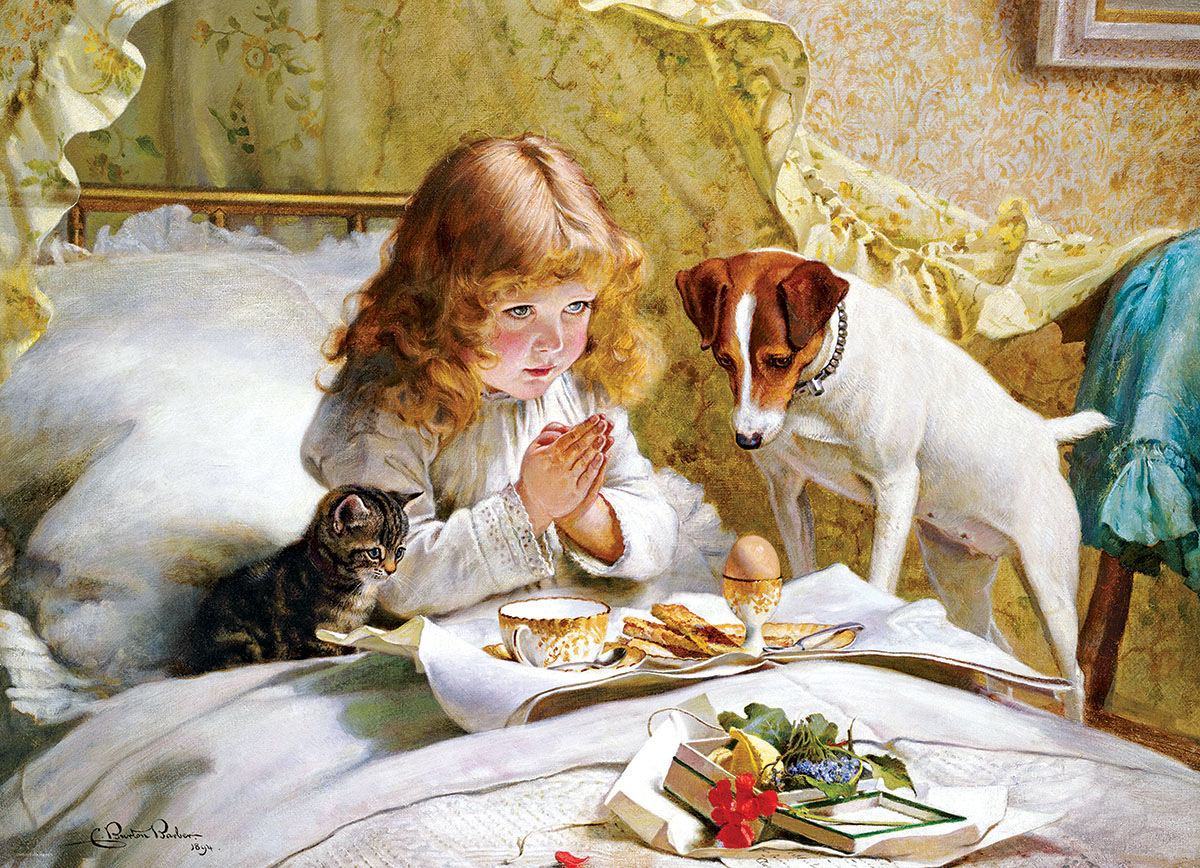 Suspense | Eurographics | 1000 Pieces
Her Little Rascals, from SunsOut is a 1,000 piece puzzle with artwork by Susan Brabeau and made in the U.S. The shape of pieces in SunsOut puzzles can vary from wildly random (my favorite) to random grid. This is a classic remembrance of days gone by – straight out of Little House on the Prairie and The Great Brain book series. This has a nice mixture of detail that is going to be fun. Come on boys, those amphibians do not want to be your pets. Give 'em up!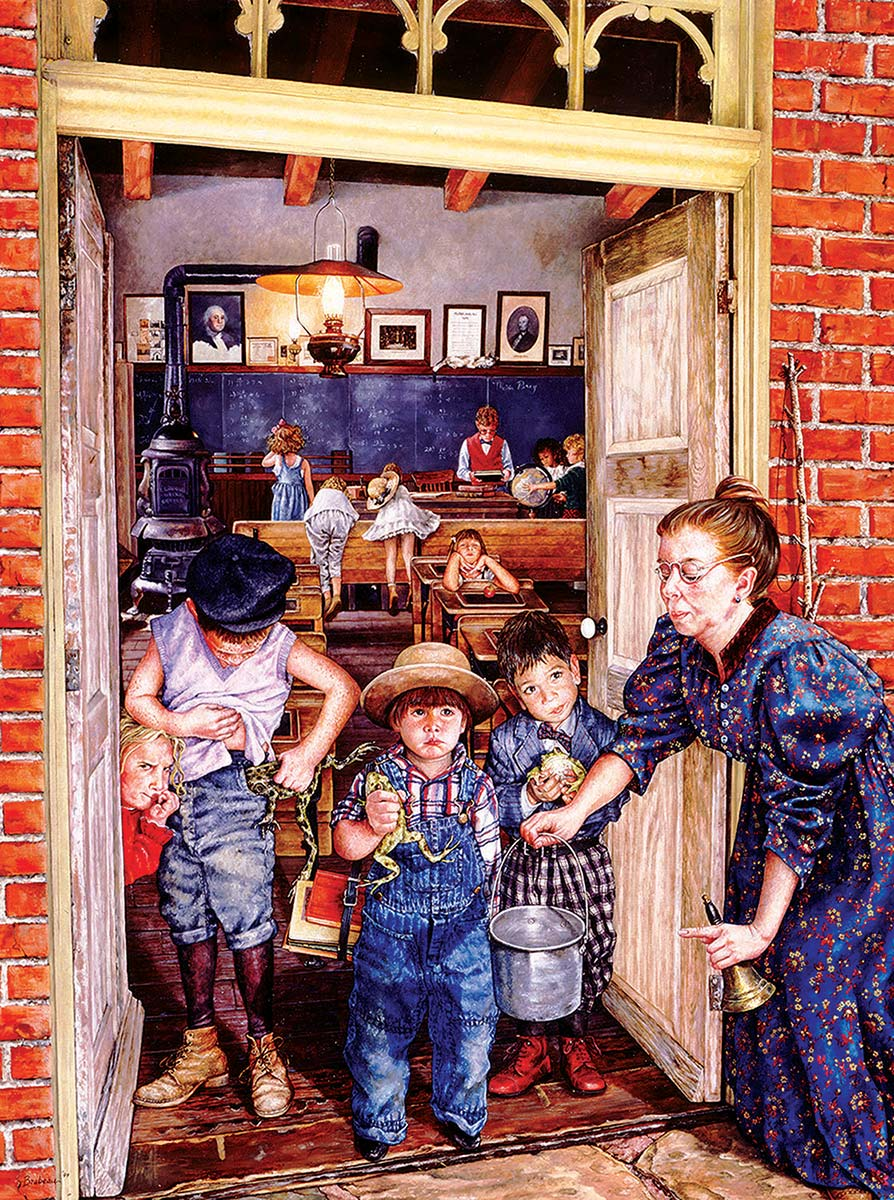 Her Little Rascals | SunsOut | 1000 Pieces
Little Ballerinas is a 500 piece puzzle from Anatolian, made in Ankara, Turkey. Anatolian puzzles tend to be cut in grid shapes. The artwork is by Dianne Dengel. She became well known for painting with her fingers and rolled bits of paper – habits she developed because in her younger years there was no money for brushes. Some have called her work "art that makes you smile."

These dancers are having so much fun being individuals. Are they all supposed to be doing the same pose? I suspect this is going to be more of a challenge than one might expect for 500 pieces – all those pink tutus and slippers.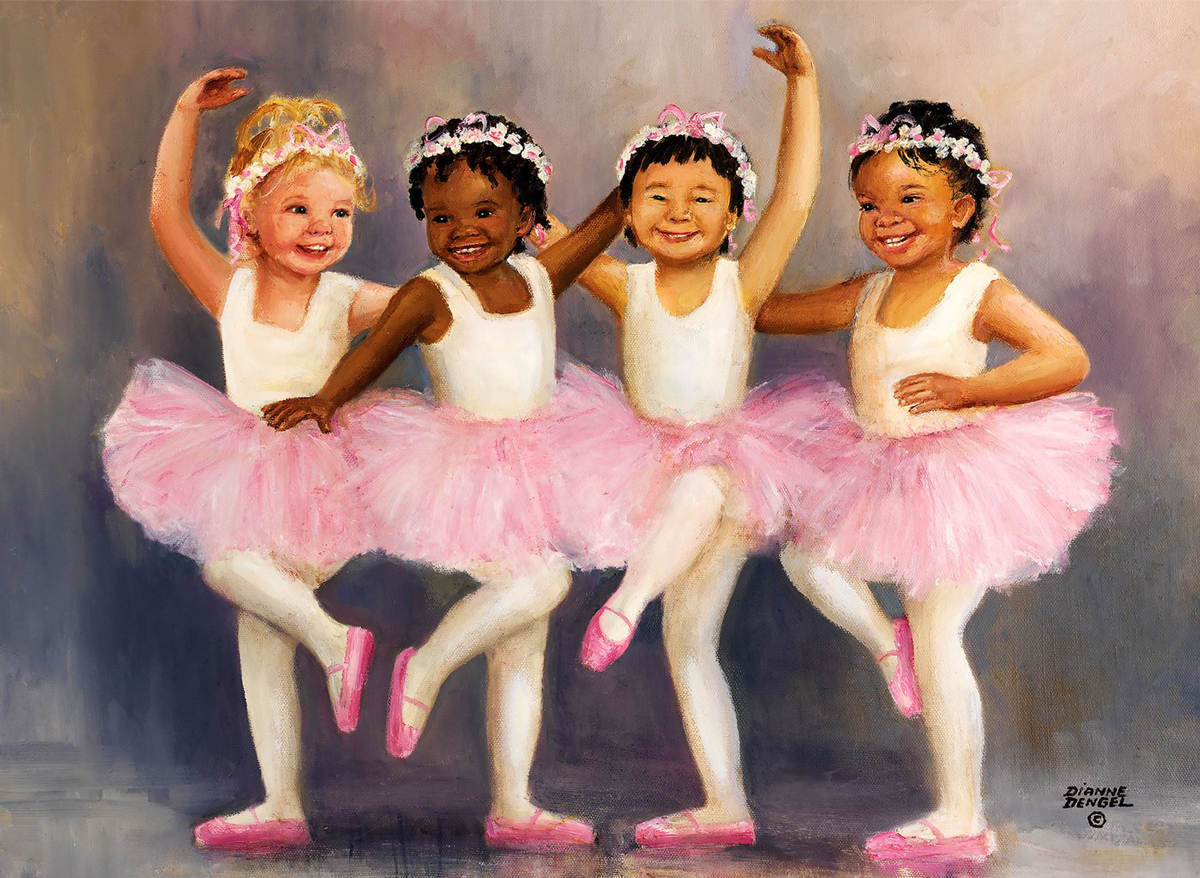 Little Ballerinas | Anatolian | 500 Pieces
Grandpa's Idea, from SunsOut is 500 pieces, with artwork by Jack Sorenson, an artist known for his western art. I admit there's a lot of white snow at the bottom of this puzzle, but I think the subject matter and beautiful sky make up for it. Plus, it's only 500 pieces, so it's going to be doable. I love the three different facial expressions: Grandpa's confidence that this is going to be fun, the boy's certain belief that this is going to be terrifying, and the dog's resignation that once again he's going to have to follow his humans into a really bad situation.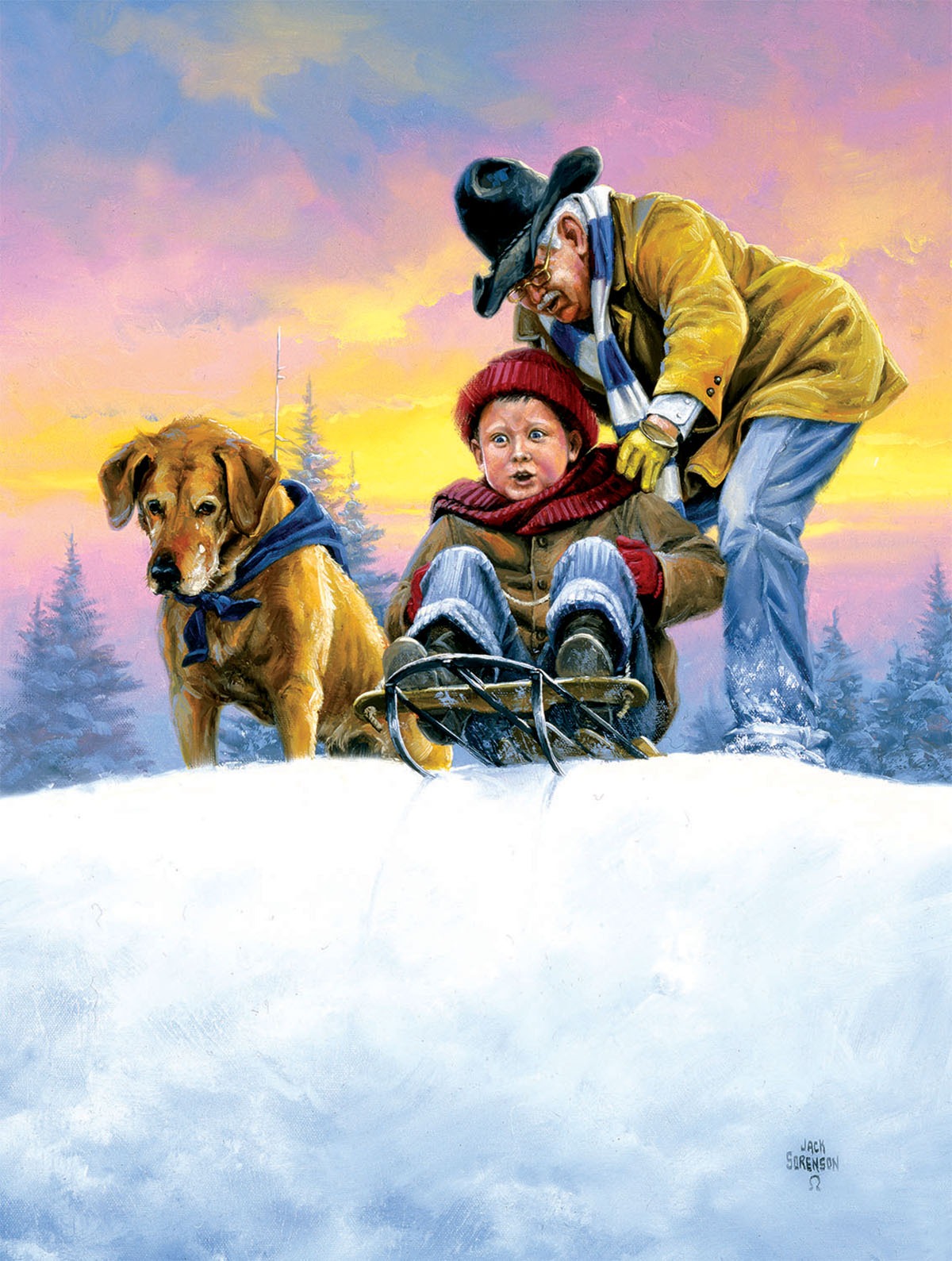 Grandpa's Idea | SunsOut | 500 Pieces |
Getting Her Groove Back is another SunsOut 500 piece puzzle. They seem to specialize in these heart-warming, family-themed puzzles. Artwork is by twin brothers Aaron and Alan Hicks. I had to giggle at this. She is having so much fun. But having experience with small children I'm pretty sure that polish is going to end up all over the sheets. Not so much fun when it happens, but priceless memories that come to mind after the kids are grown – and have kids of their own getting into similar trouble.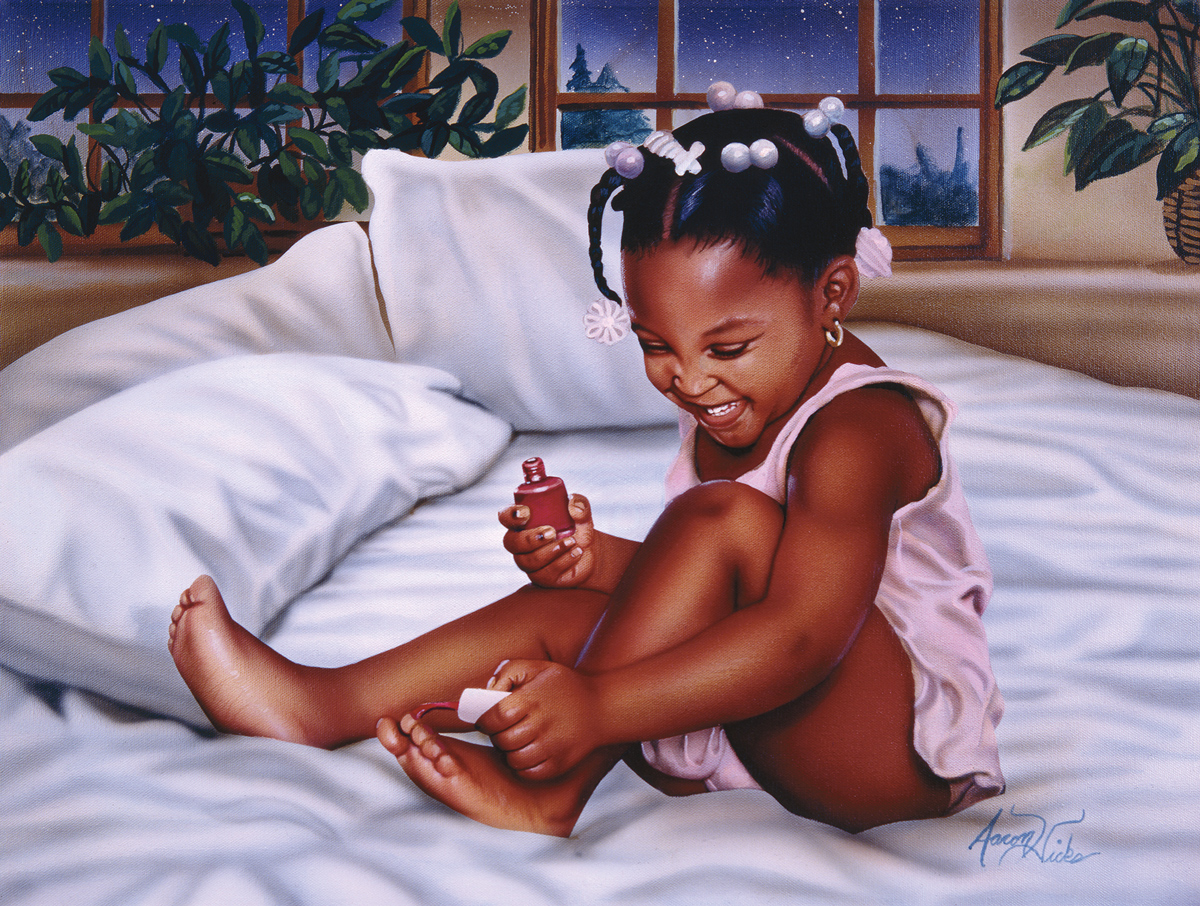 Getting Her Groove Back | SunsOut | 500 Pieces
Childhood Memories, artwork by Debbie Cook, has a soft watercolor look to it. It's from Gibsons, a British puzzle and game company started in 1919 and still in the family. Their puzzles are made with vegetable-based inks and thick recycled board. The included poster is handy if several people are working on the puzzle at the same time. This puzzle has large pieces which would make both sizes (100 and 500 pieces) a good choice for children and adults to work together. I'd love to have a beautiful garden like this, but it looks a lot like work. Having said that, I love the energy these kids have as they enjoy this amazing garden.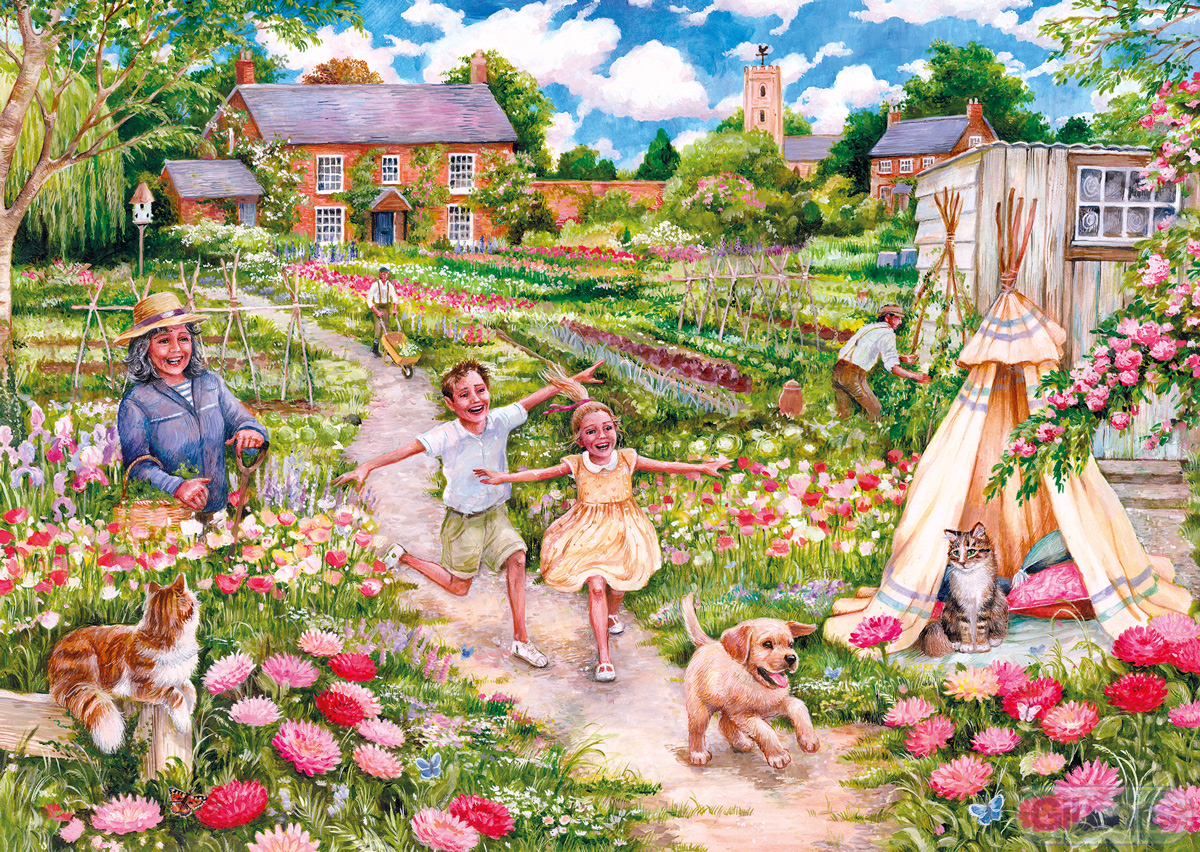 Childhood Memories | Gibsons | 100 and 500 Pieces
Uh Oh! This 300 piece puzzle is another from SunsOut, with artwork by Jim Daly, an award-winning artist. He has said, "Sometimes I think the memories are better than the reality. I love to paint children. There's an innocence they have that I never get tired of trying to put on canvas."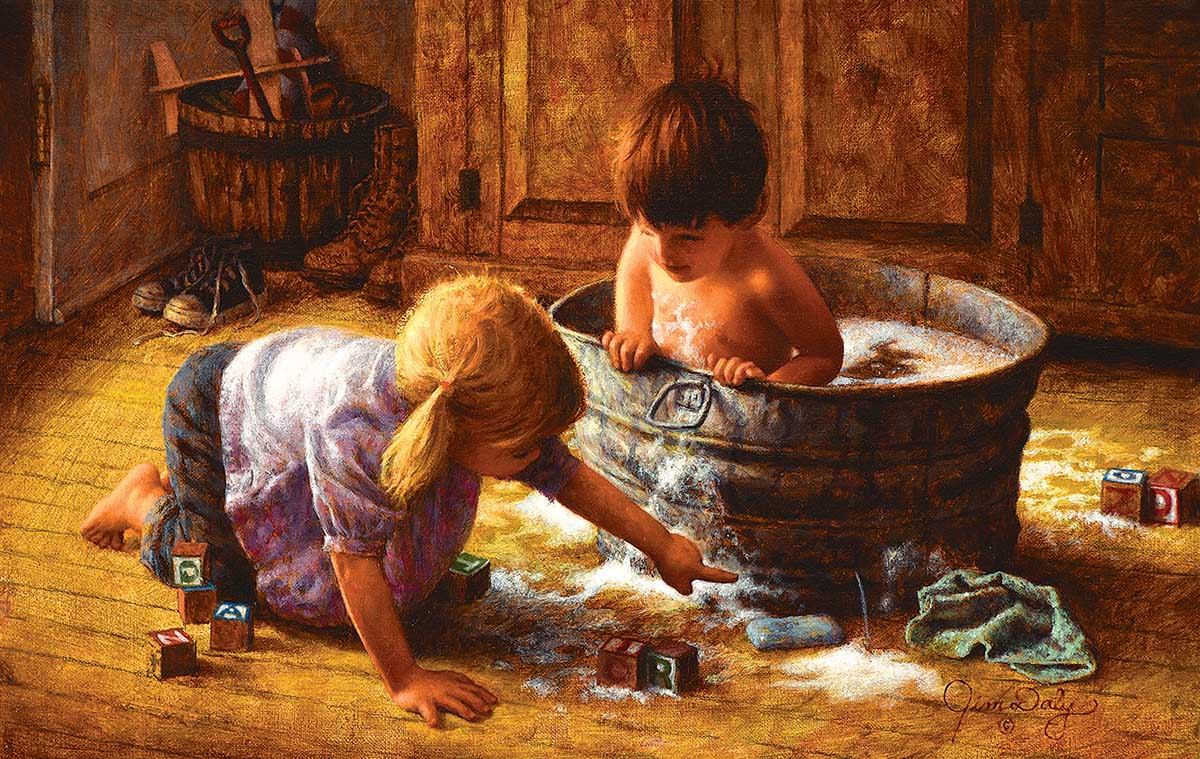 Uh Oh! | SunsOut | 300 Pieces

Every family should have that helpful, yet sometimes annoying relative, who can point out problems. In this case, it looks like it's big sister.
And last, one of my favorites by Norman Rockwell. The Shiner, from MasterPieces, just fills me with joy and pride. We don't know who she vanquished or why, but I love that look of triumph on her face. You go girl!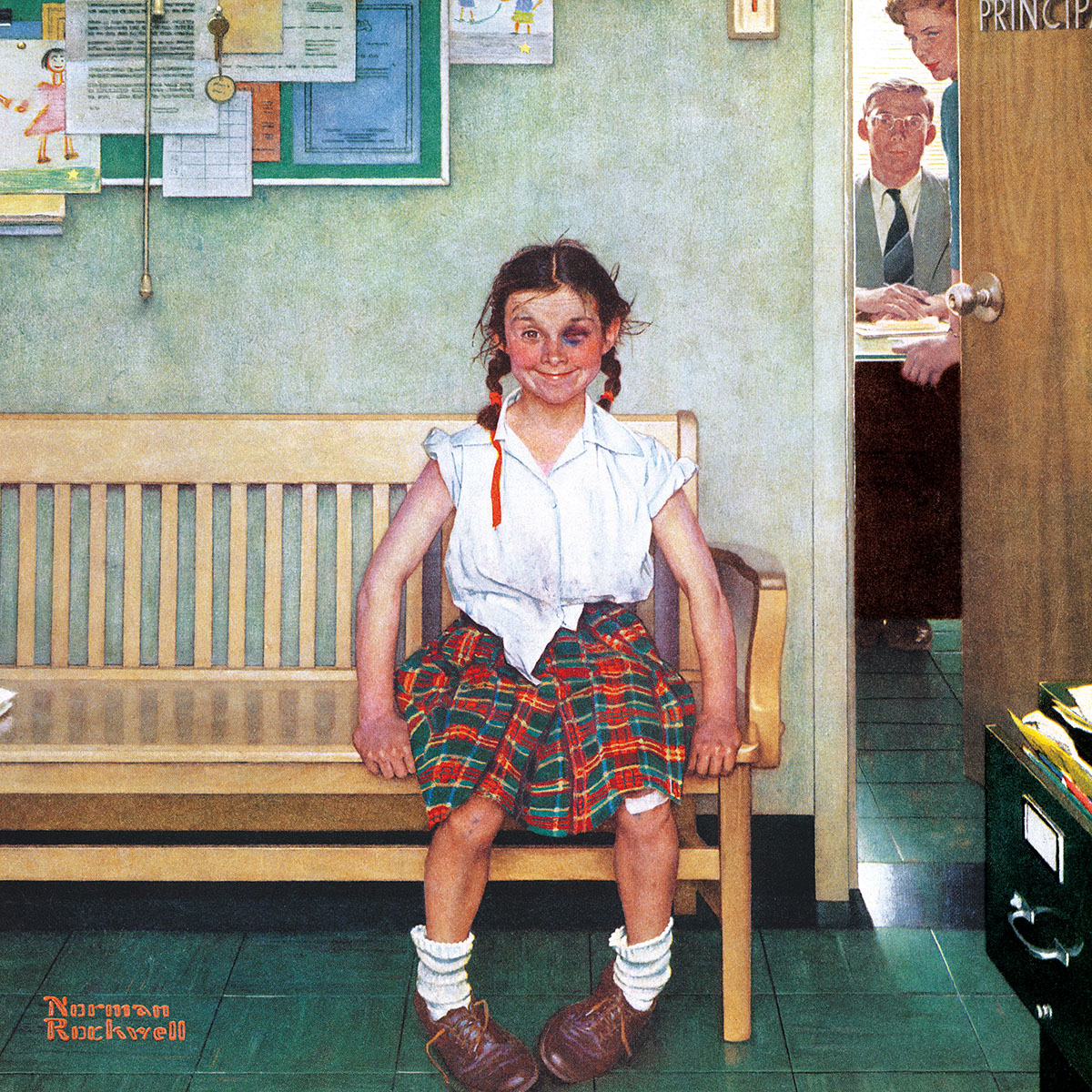 The Shiner | MasterPieces | 1000 Pieces

Mary Whalen, the daughter of Rockwell's attorney, had already modeled for one of Rockwell's Saturday Evening Post covers when he asked her to pose for "The Shiner." How did he get that victorious smile from her? Rockwell asked her, "Wouldn't you just love to win a fight with one of your brothers?" That's all it took!
I hope you've found something from this group that interests you. I thoroughly enjoyed my little Singing Cowboy.
Happy puzzling,
Madelle
Amanda K. - Cincinnati, OH
Such adorable puzzles that you found!!!
I have a couple of these puzzles - and I literally said AWWW when I saw your in-progress photo of the singing cowboy.