Dreams and Wishlists
Hello out there in puzzleland and welcome to another year of Jigsaw Junkies blogs! I'm back from a long winter's nap and excited to talk (or write) puzzles with y'all! I hope everyone had a nice holiday season and a happy New Year! I received a ton of fantastic new puzzles that I will be sure to hoard in my stash for at least 5 years.

Do any of you glorious readers ever puzzle by season? I know of some people that like to pull out sunny, flowery puzzles for spring or warm, or comforting puzzles in hues of red and gold. And then of course, there is the queen of the seasons, winter. What is it about winter that makes many a puzzler hoard more puzzles than they could possibly do in one month? I myself, am no stranger to the siren call of the winter puzzle. I have been known to stockpile an absolutely ridiculous amount of puzzles for the month of December. I had chosen the cutest puzzle to talk about in this article, Christmas Cat Stamp Collection by Anatolian.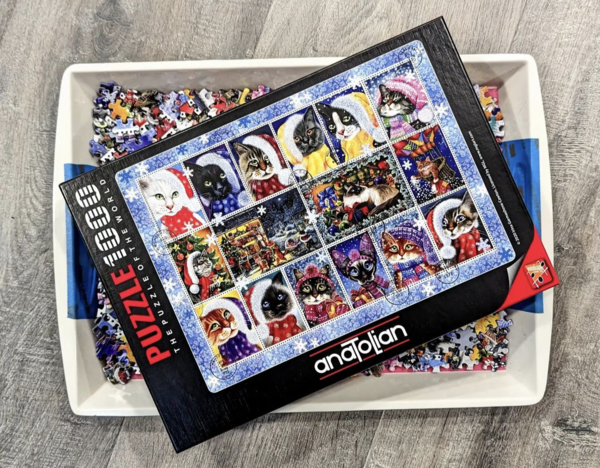 Isn't this the cutest puzzle? It was so much fun to do. It's no secret that I love collage puzzles. It's like doing a bunch of mini puzzles in one! This puzzle would have been outstanding to talk about, that is, until I crunched it up and put it back in the box without taking any pictures of it! I really don't know what came over me! Was I on autopilot? Who knows? All I knew is that I had zero evidence of the puzzle that I was supposed to write about. I had to do another puzzle quickly! But which puzzle to do? It's not like I have a small stash. I have puzzles behind puzzles behind puzzles! I thought to myself, I need a quick puzzle, so that means 500 pieces or under and I need to tie my puzzle into a topic. Hmmm, here's a nice 500 piece from New York Puzzle Company. Look at those kids reaching for the stars, stars….when you wish upon a star…..BAM wishlists! And just like that, I Kevin Baconed my way to a new puzzle and a new blog post topic.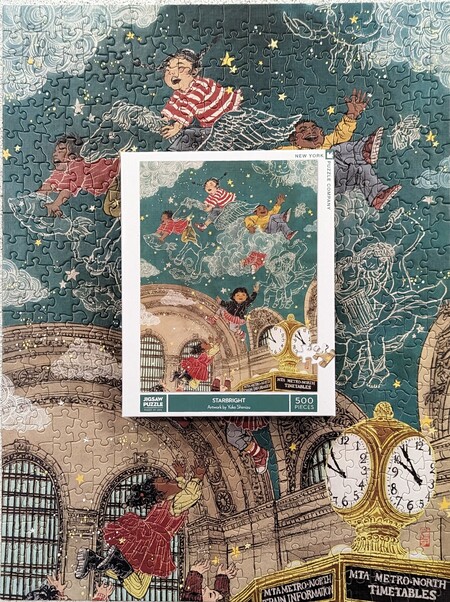 Presenting Starbright from New York Puzzle Company. How can you look at this puzzle and NOT see dreams and wishes? Starbright, by artist Yuko Shimizu, is a MTA commission for their graphic art program. Every year, artists create posters that depict transit-related subjects and the places that can be discovered using the mass transit system. These posters are randomly displayed on subway platforms throughout the subway stations and on subway cars and buses. This image from Yuko is a gorgeously fanciful take on the famous Grand Central Station ceiling. I've passed through Grand Central many times and always took a beat to stare at the beautiful ceiling.

Being only 500 pieces, this puzzle was super easy to bang out in an afternoon. I separated the edges and after that was assembled, I began working on the children in the image and then the clock. After that, I gathered up all the brown and began working on the stone features. The clouds came next and then the rest of the green. It held together very well for a random cut puzzle and the pieces were nice and chonky. Their 500 pieces are exactly like their 1000, just bigger. It's nice when there is consistency within a puzzle company.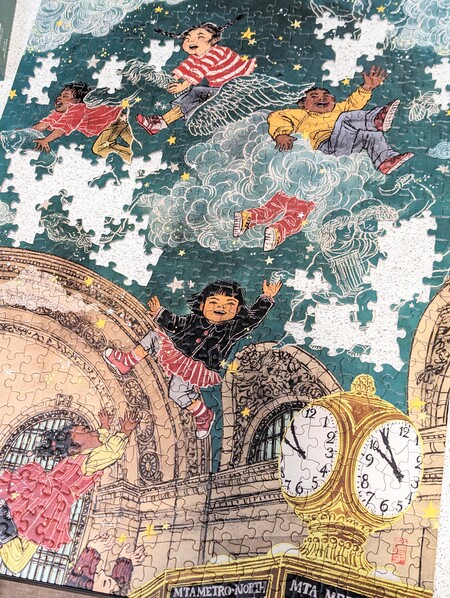 However, this article is not about New York Puzzle Company, but the wish list feature on the Puzzle Warehouse website! It took me a while to make an account with Puzzle Warehouse. Probably because I hate making accounts anywhere. What can I say, I don't like a cluttered inbox. However, their puzzle of the month club won me over. Once I made my account, I discovered…the wish list. Do me a favor. Pull up the Puzzle Warehouse website and click on a puzzle, any puzzle. Do you see the little white heart next to the "add to cart button"? Click it so that the heart is now black (it'll turn red if you move the cursor over it). That's it! You've started your wish list. Decide you don't want that puzzle anymore? Click the heart so that it is white again. Do you want to check what's on your list? See the green tab on the right side of the screen that says "wish list"? Click that. You now have two options; you can see all your wish list items or email your wish list to others! Are your friends and family always asking you what you want for special occasions? Is your spouse (like mine) the worst present giver ever? Email them your wish list by typing their email address into the white space above the blue and green buttons. You can send it to multiple addresses, just put a comma after each email address. Don't worry about having too many puzzles on your wish list, I don't think that there is a limit. My personal wish list is at least 8 pages long! Your wish list will display both in stock and out of stock puzzles and when you add anything to your cart, it automatically comes off your wish list. Interested to see what I have on my wish list?
Just some new releases from Pomegranate….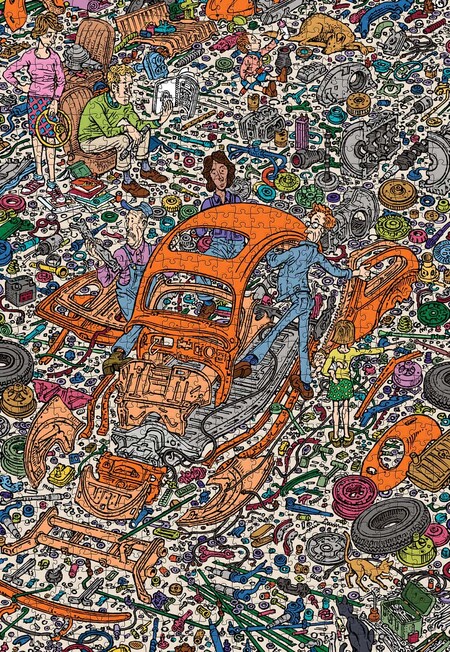 The Exploded Beetle | Pomegranate | 1000 Pieces
Fun circle puzzles by Ravensburger…..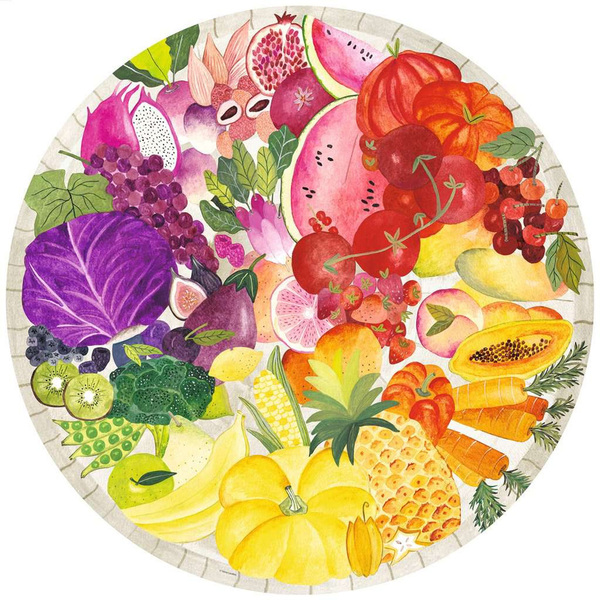 Fruits and Vegetables | Ravensburger | 500 Pieces

Got to have a rainbow in there, this one is courtesy of Buffalo….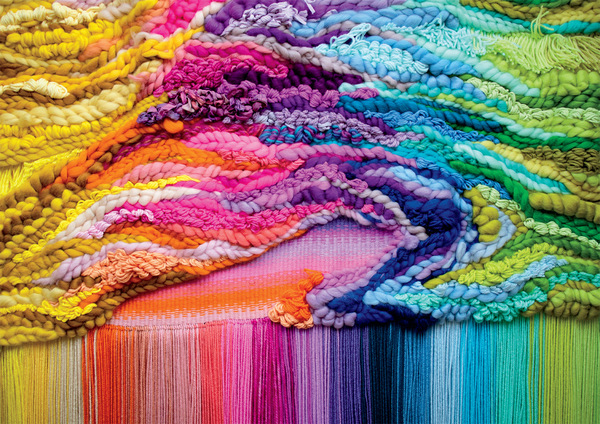 Fibre Rainbow | Buffalo Games | 300 Pieces

Mini Puzzles for on the go puzzling….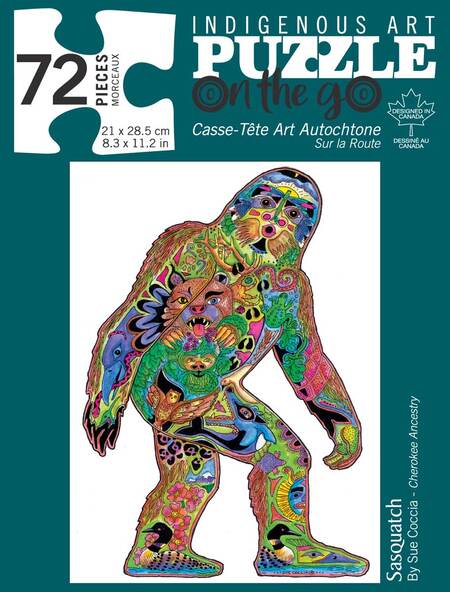 Sasquatch Mini | Indigenous Collection | 72 Pieces

So why the sudden wish list primer (besides the need to pull a new topic from thin air)? Well, a new year also means new releases are right around the corner! Keep your eyes peeled on the new arrivals section because new puzzles are arriving all the time! Until next month Puzzle Fam, when I plan to talk about my puzzle assembly set up.

Keep on puzzling!
-Gaby @puzzlepastime