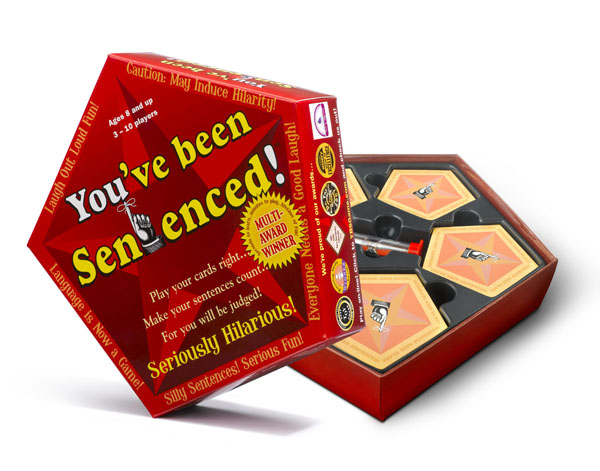 The real fun begins when players have to read their sentences out loud and explain what they mean to the rest of players. They form the jury and vote thumbs up or down on whether the sentence and justification stand and the points are scored. 540 cards with over 2,500 words insure billions of possible sentences so the game is never repetitive and has unlimited re-play value.
Multiple other methods of play are available on McNeill Designs' website,
here
that turn "You've been Sentenced!" into not just a game, but a full game system! We even have a lesson plan to turn "You've Been Sentenced!" into a classroom teaching tool. This game makes learning grammar and sentence construction fun and easy.
Socially interactive, players become members of the Jury and can ask a player to justify and defend the grammar, sense and meaning of the sentence. The player has a chance to convince the Jury to accept their often outrageous and hilarious sentences.
Recommended Age: 8 and up
Play time:30 - 40 min
Players: 3 - 10 players