5 Must Have Jigsaw Puzzle Accessories



1. Puzzle Storage Devices
There comes a point for most puzzlers where you start running out of space on your table, or your puzzle has simply taken over your kitchen/dining room area. Well, we have just the thing to help you free up your space and organize your puzzle so the extra pieces are out of the way and in a secure location. Stackable puzzle trays are great for that as they're easy to move and to tuck away the unworked pieces of your puzzle. They also work as an efficient tool for many in solving their puzzles as you can color code the pieces in each tray to help see the puzzle's bigger picture.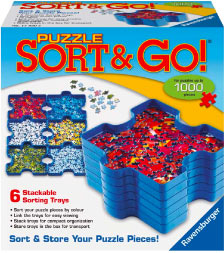 2. Porta Puzzle
While the stackable puzzle trays are great for getting the extra pieces out of the way, you may be wondering if there's something that can store your entire puzzle? And there certainly is! Portapuzzles are one of the most recommended means of storing and working a jigsaw puzzle in a limited space or even if you just like to keep a tidy puzzle area. What makes Portapuzzles exceptionally good, is the option to work your puzzle in one area and when you're done, just simply close it and re-open it when you're ready to pick up right where you left off. There are various Portapuzzle options we carry to suit all kinds of needs and requirements, so be sure to browse the selections for what suits you best!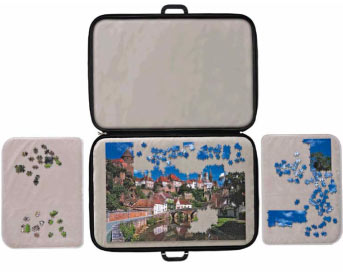 3. Roll-Up Mat
Many puzzle storage devices work well but you'll find they're often bulky as it has to case an entire puzzle. But if you're looking for a short-term transportation and storage device, then you definitely should look through our various Roll-Up Puzzle Mats. What makes this different and unique from the stackable trays or Portal Puzzles, is that you lay out the provided felt as a workspace for your puzzle. The felt helps the puzzle pieces stick in place and not shift around while working it so struggling to pick up a piece is an issue of the past!

Not only does the Roll-Up Mat make working the puzzle easier, storing it just became ten times simpler. Once you'd done a sufficient amount of work and want to put away your puzzle, all you do is set the provided tube at the edge of your puzzle mat and start rolling. As you roll up the mat with the pieces on it, the tube applies just enough pressure to keep them from shifting or moving so they're just as you left them. Not to mention, once you're done rolling up the mat up you're left with a cylindrical tube containing your puzzle and all its pieces. Just attach the provided fasteners to keep it from unrolling and you're good to go!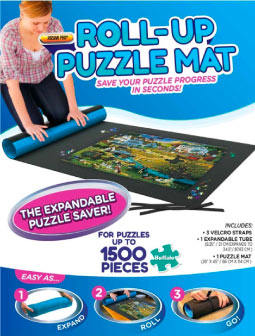 4. Puzzle Glues
Hopefully, we've provided enough information and resources about our puzzle accessories and how helpful they can be to completing a puzzle. But a popular question we get is "what do I do with a completed puzzle that I've spent hours to finish?" and the good news is there are several options. Some puzzlers will glue their puzzle once it's complete to preserve it while stored away or prepare it for framing, which is another option we'll go more into detail on. However, you'll most likely find that there are several options for puzzle glue and we can confidently tell you that all puzzle glues you find at Puzzle Warehouse will get the job done well. The cost difference in the various glue options is related to its packaging and other accessories that may be included with the glue, such as a device to evenly spread the glue across the puzzle etc.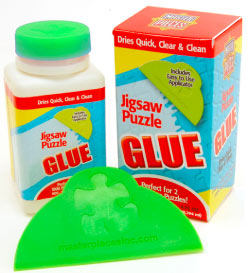 5. Puzzle Frames
We'd previously mentioned framing puzzles which may sound quite interesting if you're new to the hobby or new to the idea of framing/gluing jigsaw puzzles. Thankfully, we stock several frames to fit various puzzles as it can be difficult to find a frame on the market to fit your exact puzzle size. Once you've framed you're a puzzle, we suggest mounting it somewhere it can be regularly seen as a reminder of the hard work put into it or even as decoration/holiday decoration. If you're ever in the area and stop by our local retail store here in Saint Louis, Missouri, be sure to take a look at the 24,000 piece puzzles mounted on our back wall!