Time it Takes to Put Together a Puzzle
Are you trying to choose the right puzzle depending on the amount of time it will take? Well, we got you covered by putting together how long each piece count can take to put together from a 300 piece to our best seller 1000 piece puzzles!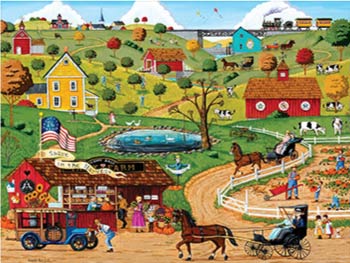 Share in the Harvest / MasterPieces / 300 Pieces
300 Piece Jigsaw Puzzles.
When choosing a puzzle, one question that we get a lot of the time is if we have any great family puzzles. Now depending on how many members there are in the family, some can go above 1000 pieces however in most cases we suggest our 300 piece jigsaw puzzles. With 300 pieces, the actual sizing of the pieces is somewhat larger than the typical 500 piece puzzle making it great for all ages. Now with our family puzzles, they are built for family night as the images have three different piece sizes; small, medium and large piece puzzles so the whole family can work together to assemble the puzzle. The amount of time it can take to complete a 300 piece puzzle by yourself can vary person to person and how difficult the image looks however normally for a standard 300 piece puzzle, it can take between 2-3 hours to assemble the puzzle. If you are completing the puzzle with family, it could be less than that. To view all of our 300 piece jigsaw puzzles, click HERE.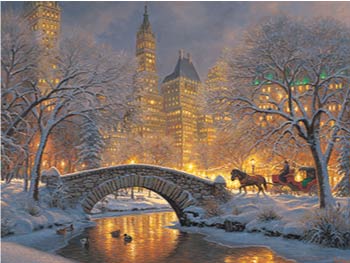 Winter in the Park / Cobble Hill / 300 Pieces
500 Piece Jigsaw Puzzles.
If you are needing a perfect challenge our 500 piece jigsaw puzzles are great for those getting into the hobby with some of the pieces are easy-to-grasp large pieces for those needing bigger pieces to work with. When choosing a jigsaw puzzle, it always comes down to the design of the image. With a 500 piece puzzle being the standard sizing for a puzzle, the images are endless as we carry over 300 different puzzles from sports and folk art to your favorite animal. Now the amount of time it can take to complete a 500 piece puzzle can vary from person to person and how difficult the puzzle is. Shaped puzzles and World's Smallest puzzles can take a great deal longer than a simple 500 piece jigsaw puzzle. Normally, for a standard 500 piece puzzle, it can take around 4-6 hours from start to finish. Now if you are doing this with family or friends, it could take around 2-3 hours to finish assembling. To view all of our 500 piece jigsaw puzzles, click HERE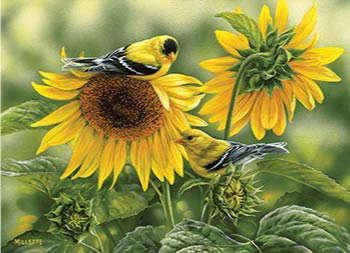 Sunflowers and Goldfinches / Cobble Hill / 100 Pieces
1000 Piece Jigsaw Puzzles.
If you are an experienced puzzler or just needing a great challenge, then our 1000 piece jigsaw puzzles are perfect for you. Offering a large selection of 1000 piece puzzles from over 80 manufacturers in dozens of themes, these puzzles are great to put together not only by yourself but with a little help from friends and family. Some of our most popular 1000 piece jigsaw puzzles come from popular brands such as Ravensburger, Sunsout and White Mountain featuring a wide variety of themes for anyone's interest such as wildlife, Christmas and many more! Upon completion, these jigsaw puzzles are great to frame for all to see. The amount of time it can take to complete a 1000 piece puzzle varies from person to person and the difficulty of the image however normally for a standard 1000 piece puzzle it can take around 10-24 hours to complete depending on the skill level and the number of people working on the single puzzle. To view all of our hundreds of 1000 piece jigsaw puzzles, click HERE

If you want to calculate the time it takes to complete a jigsaw puzzle yourself, it's pretty simple. If it takes you 1 hour to finish a 250 piece puzzle, then on average it will take 2 hours to complete a 500 piece puzzle and 4 hours to complete a 1000 piece puzzle. Now it does vary puzzle image to image so all time frames are an average.

Share your completed puzzle with the world and Puzzle Warehouse by posting the image on Facebook or Instagram and tagging us at @PuzzleWarehouse or using the hashtag #PuzzleWarehousePuzzles