Premium Puzzle of the Month Club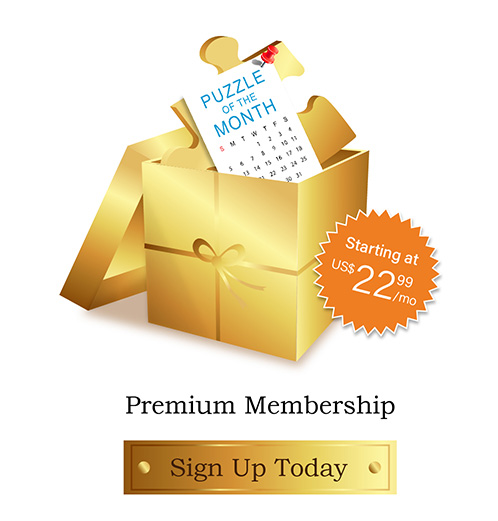 Premium Perks
All of the great features of the Puzzle of the Month Club, now with expanded Premium selections. As long as your Premium Club Membership is active, you'll receive a new jigsaw puzzle every month, chosen by our puzzle experts from one of over 80 brands in varying piece counts - 300, 500, 550, 750 and 1000 piece puzzles. Choose any puzzle, from any brand at these piece counts!*, and include the most popular themes we think any adult puzzler would love (never too juvenile, feminine, or masculine).
As always - Free Shipping on Any Order
You're buying more than just a puzzle when you join the Puzzle of the Month Club - you'll also get FREE shipping on any orders placed during your membership! Combine any orders placed during the month with your puzzle of the month shipment and get free shipping, no minimum order required!
*This offer only applies to the Continental United States*
Swap For a New Puzzle Anytime.
A week before shipping, we will notify you by e-mail of the puzzle chosen for delivery. Don't like what we've selected for you? No problem! Simply contact us to switch it out for a puzzle of your choice from the Swap Options link in your e-mail notification. Didn't swap in time? Don't worry - any unopened puzzle is still always covered by our 365-day return policy.
Please Note: Wooden and custom puzzles are excluded from the premium Puzzle of the Month offerings





Questions?
Visit our Puzzle of the Month FAQ to see other commonly asked questions about this program!
---
Want a printable gift certificate with the activation code to give as a gift?
Click Here to download a blank printable certificate or send an email here with your order number and request - we can send you one within 24 hours.