USAopoly Puzzles & Games
USAopoly today is amongst the leading designers and manufacturers of traditional board games and jigsaw puzzles. USAopoly has been producing the world's most appreciated games, with a twist, with licensing from Hasbro, since the company's founding in 1994. The companies partners include some of the world's largest brands and licensors such as Disney, Nintendo, Microsoft, Cartoon Network, M&Ms, BBC and Warner Bros.
USAopoly is dedicated to creating fun and games! Their goal is to show their passion through each and every game they create. Many of their employees have been with the company for over a decade. They live and breathe their company values: "bring a smile, play fair, do it right, honor your word, and give it your best," and they strive to represent that in their products. Each and every one of their games are created to bring families and loved ones together to share an emotional connection and make memorable moments of fun for families, friends, game enthusiasts, fans, and collectors alike.
USAopoly started with the idea to take the classic board game Monopoly and make it relevant to special interests like hometowns or favorite TV shows. They also manufacture a superb line of jigsaw puzzles touching on classics like The Beatles or Where's Waldo. Your family will love putting these together.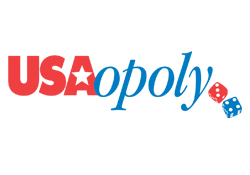 View all USAopoly puzzles and games here